[Episode 18]

Smultronställe*
Relieved from the depressing thoughts of Graham, Alex returned to thoughts of Jessie. He had to see her again. And she was in danger when she was alone. He dialed her number.
"Hello, Jessie here."
"Ciamar a tha thu?" Alex had tried looking up Scottish Gaelic to impress her.
"Alec?"
"It's me."
"Weel, I wudna mistak you for a native speaker. But I ken ye're tryin, an it's sweet."
"One minute on google translate is hardly a Master's level accomplishment. I called to see if you'd like to go out to dinner. The fanciest restaurant in Gallovidia. You name it – price no object."
"Och, Alex that's verra guid o you. But yon's not want I'm wanting the day. Hoo's this? A picnic up in the Forest. I wud enjoy that, an be prood tae show you some o my favourite places."
"That sounds…very nice." Alex tripped, almost saying 'romantic' – he sensed that would have been a big mistake. It seemed to him that Jessie resisted sentimentality. She seemed to prefer hiding her feelings behind arcane knowledge. "How do I get a picnic together?"
"I'll dae that; I ken jus the things."
"Alright. But I insist you keep the receipts and let me pay you back.
"It's a deal." Jessie, as a good Scot, always watched her budget closely. "I'll come to your place at aboot five. Ye can bring the wine."
"See you then. I'll have more on the case to tell you."

After they rang off, Jessie was very pleased. She was going to get together with Alex, but not because of fear or dependence, but to have a picnic. While he had suggested the meal, she had taken charge and made it her own. And hiking and dining up in the hills and forests were guaranteed to feed her soul!
She closed out her work (truth be told, she hadn't been able to concentrate at all) grabbed her things for eating out, and jumped in Clio to pick up her messages.

When Alex hung up, he was similarly encouraged. Jes had seemed so angry leaving, that he had worried she wouldn't want to see him again. While he was more the type for a white tablecloth meal, a picnic could be fun, and surely would be with Jes. And he sensed how unique the Forest was to the lassie and looked forward to seeing her in her natural element. It seemed so much a part of Jes that he almost envisioned her like those deer he watched with amazement the first day here, bounding freely through the woods.
With some time left, he sat back, closed his eyes, and became Graham.

'Whit shall I put on?' thought Jessie. Her first instinct, as ever, was her denim shorts. She always felt most comfortable in those, didn't much like jeans, heavy-duty foresters' trousers would be the sensible wear – but, hell, Alex was planning a romantic candlelit dinner, she'd parried that idea into the great outdoors, but there's nae reason why a lassie shudna luik her best.
So ... she put on her favorite soft pale-blue chambray shirt, tied at the midriff, sheer green tights that showed her athletic legs to good advantage, and wrapped around her hips the mini-McTaggart kilt, the shades of blue and green blending well with the rest of her outfit. Sturdy blue walking trainers, a green waterproof in some gossamer-light fabric designed for spacewalks, neatly folded in a small pouch, and she was ready for the Forest.

At a few minutes before six, Clio, loaded with picnic supplies, pulled into the parking area at the Tonderghie House B&B. Jessie jumped out and headed toward Alex's bungalow.
She was surprised to find herself so anxious to see him again. He's jus got me nervish aboot this kidnapper, she said to herself, unwilling to admit other feelings that were developing for the American.

Before she could get to the door, Alex emerged. He had apparently been watching for her. He was dressed in his best L. L. Bean deer hunting gear. He figured that would work in the Forest, and it synced with his thoughts of Jes as a doe. He had a soft, short-sleeved chambray shirt in camouflage, rugged denim shorts in the same, and waterproof hunting boots. He carried a trail model rain jacket, fleece-lined. He had learned his lesson almost freezing to death.
As he saw Jessie alight from Clio, he almost whistled. The bare-midriff, very short kilt, and eye-catching green hose were incredibly sexy, he thought.

As the two approached to within a few feet more rapidly than either had expected, an awkward moment ensued as neither had planned an appropriately familiar greeting. Alex, totally surprising himself (he never knew what to do in awkward social situations), did precisely the right thing. He leaned forward before Jessie could move and gave her an air-kiss on the cheek. "Good to see you again, Jes."
Jessie, taken aback by the very friendly but appropriate gesture from the usually clumsy Maxwell, stammered, "An tae see you.. tae, Alec!"

They quickly climbed into Clio, and Jessie pulled out onto the Queen's Way.
Despite heading out on a lovely afternoon to picnic at one of her favorite spots in all Gallovidia Jessie was feeling very torn. Her almost obsessive desire to see Alex again and his suave yet sweet greeting had caught her off-guard. These feelings were not what she would normally allow herself.

They drove along toward Craigclattran Loch, which Alex cheerful recalled as they passed. He knew by now how much Jessie treasured this place. Several times he tried to start a conversation by complimenting a feature or praising a view. Each time Jessie responded with a dismissive or even sarcastic response.
They followed the narrow road by the Loch and turned on what seemed to Alex to be an endlessly winding way. When he remarked on all the twists, she replied: "Aye, I ken whit ye're ettlin fer, a bulldozer ta kerve thro a the hills, an a chainsaw to chap doon a the trees, sae ye can get fra A ta B in a puckle o minnits the fester."
That quieted him down. After a few minutes, they were passing a surprisingly grand-looking Victorian shooting lodge Alex remarked humorously that he could check in there in his deer hunting outfit. Jessie chuckled to herself at his humor but felt, for some reason, compelled to say. "Wi yon fantoush breeks an yer fancy deer-huntin rig, ye'd fleg the brawest buck aroon fra a mile awa!!"
Out of the corner of her eye, as she was expertly putting Clio through her paces on the winding way, she saw the hurt in Alex's eyes. Why had she said that? Jessie wasn't usually a nasty or sarcastic person. Today, for some reason, she just had to shoot down everything he said.
Alex sat silently for a while, wondering what he'd done to get these put-downs. He settled on his kiss for her back at the B&B. Too forward. I just needed to be polite and keep saying how much I loved this place, which I honestly do, he thought.



After what proved to be only a half an hour or so from the Loch, they were bumping up an unmade track through forestry plantations till they come to a clearing, where Jessie parked the car by some old rail tracks and pieces of twisted metal machinery. She explained to Alex that there were once busy copper mines in what seemed now to be such a remote spot.
They grabbed all the food and gear out of Clio and donned their back-packs. Jessie gave Alex a large folded woolen tartan to carry. "Am Féileadh Mòr. Think of it as a Scottish picnic blanket." In truth, she gave him the much heavier share to carry. Jessie was strong and independent, but she didn't pretend that a larger man like Alex wasn't able to carry a bigger load. When he jokingly asked if Jessie wouldn't make it easier if she just had him carry the whole car, she snapped back, "Gin it's tae muckle for the strang American, this wee lassie can tak some."
Jessie led the way as they clambered up a steep, narrow goat-path. The trail was deeply forested at first, steep and unmarked. Before long, they emerged from the forest to a relatively level shelf where smooth rocks rising above the short grass which was filled with wildflowers.
Along the way, Alex was thankful that Jessie had to lead since only she knew where they were headed. By being behind, Alex got to admire her nice shapely butt and her long, athletic legs, sensually caressed by the green tights and which, with the short kiltie, seemed to go up forever! Jessie glanced around occasionally and was well aware of his looks. Another time, she might have been offended at being leered at. But today, she just felt flattered. On a naughty whim, she casually hiked the kiltie up to give the laddie a better show. A gesture that Alex observed and appreciated.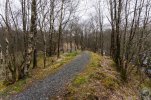 Alex was not in nearly as good condition as he imagined himself to be. Therefore, by the time they reached their destination, he was panting heavily. Jessie continued to tease him unmercifully for being soft.
In truth, Jessie was feeling a mite bit guilty for being so hard on Alex, who had taken it all in his stride. However, she feared that if she stopped, the talk might become too friendly, too sentimental. And she couldn't let that happen, no matter how attractive she found Maxwell.

They choose a comfortable enough place to sit and set out their picnic. Alex gratefully set down his load. He stood back up and looked around. He might have still been panting from the climb, but the view took his breath away.
In front of them, the ground dropped away sharply to a truly magnificent view across a loch towards the rugged Range of the Awful Hand surrounding the Merrick. Jessie pointed the mountain out, which Alex remembered was the highest 'mountain' in Gallovidia. Scattered below were huge relics of basaltic rocks baked by volcanoes when the plate carrying what was going to be England collided with the one carrying Scotland, millions of years ago.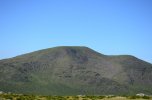 My God! Alex thought to himself. It's like heaven on earth! He turned to Jessie, who was standing, hands-on-hips, gazing on the scene as if mesmerized herself.

"What is this place called, Jes?"
"Rig o the Laggan" she said, with emotion in her voice. Alex looked and saw love in her face for this place. Given her resistance to showing emotion, the way she looked out on the scene warmed his heart.
"It is magical. Thank you for bringing me here to share it."
Jessie blushed slightly. Those were the perfect words for him to say. Who was this man from Wisconsin? Despite her fear of intimacy, she did want, very much, to get to know him better and to share this special place with Alex.

A moment later, she caught herself. She reminded herself that she had to maintain an emotional distance from this fascinating American.
"I'm surprised a Yank wud e'en notice sic a thing. I'd expeck you tae say it's guid land for a shopping mall and acres of car park " she said, turning away. The dig hurt Alex. He had been sincere in his reaction to the beautiful spot that Jes has shared. If she brought him here, why say that? He was doing all he could think of to be nice to Jes.
Alex then tried the direct approach. He leaned in close and touched her cheek. Jessie felt electricity shoot through her body. This had to stop!
She tilted her head and waved a disapproving finger at Alex.
"Noo, noo, Mr. Maxwell. You didna think you'd get dessert afore the meal, did ye?"

Alex looked at her with a mix of frustration and desire. She was so pretty. Her eyes flashed summer twilight, and her skin glowed with a lovely flush. Her long legs and bare middle stirred his sexual desire, and her cute, small breasts rose and fell enticingly with her quick breathing. She seemed aroused. What the hell was the problem?
But he was a gentleman. Despite dominating and sadistic fantasies, Alex, in real life, would never consider pushing a woman to where she didn't want to go.

*Smultronställe – Swedish. The literal meaning is "wild strawberry patch", but the word is used to mean a special place that is close to your heart, that isn't so easy for others to find, where you feel at ease and at one with the world.