Administrator
Staff member
Breaking in of a Head Girl Part 3
(All characters and models 18+)

In the garage Sylvia couldn't help giving her pussy a brief rub. She was feeling hot and twitchy down there. In spite of the fact that two hours earlier she and husband Charles had had intercourse. They almost never did it in the mornings with Charles having to get up and go to the office, but this morning he had definitely wanted it and she had been more than willing to accommodate him. The truth was they were both affected by what was going to happen this morning.
Charles, on top of Sylvia, had said jerkily in her ear, 'I suppose that dirty bugger's going to feel her up? When he's got her bottom bare. Sort of extra perks…

She had told Charles not to be so awful. But would Mr Hanfield do that sort of thing? His hand accidentally on purpose feeling Pam's pussy… Surely not. But men could be awful and no doubt Mr Hanfield was going to enjoy this caning, tradition or not.
Sylvia started up the Mercedes. She thought briefly of Mr Sinley, Adrian Sinley who a few months earlier had moved into the house next door. Sylvia rather thought Mr Sinley, who was fiftyish, fancied her. Not that she would have any interest in that direction of course. But if she happened to see him in the garden after taking Pam to school… well she just might invite him in for a cup of coffee.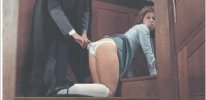 Had Amanda been laying it on a bit thick? With her bottom flinching in the regulation school knickers, Pam knew she was about to find out.I
am
going to be sick, Pam told herself. Walking now up the familiar gravelled driveway with the high leafy shrubs on either side. Her mother had dropped her and had driven off so it was just Pam and Mr Hanfield. He would be in there waiting.
Maybe watching for her from his study window. Maybe… flexing his cane.
She had spoken to Amanda Morling who had been Head Girl last year. After Mr Hanfield came round to her house with the news. Before that of course Pam had had no idea that Amanda had been caned. Perhaps it would have been better if she hadn't spoken to Amanda, because she had told Pam just what she didn't want to hear:
'
Does it hurt? Oh Pam, it feels like it's cut you in two! You think you'll never be able to sit down ever again!'
'Ah there you are, Pam dear! Come in! Mmm… I had almost forgotten how fetching you look in the college uniform. Sometimes I think it's a mistake to let our students wear their own things. I mean the uniform is most becoming isn't it? Anyway congratulations, Head Girl!'
Mr Hanfield was leading her on as he spoke, across the hallway to his study. And there on his wide polished desk was the cane! The sight of it really did make Pam feel sick. He was going to cane her here. Bending over that desk.
'So, our little ritual, eh? Take your hat off. And the sweater. I don't suppose you're really looking forward to this.'
Pulling off the navy sweater Pam woefully shook her head. 'N… No… oo… No I'm not sir.'
' It's natural. No one likes the cane, not on the bare bottom especially. And most girls don't like the fact of taking their knickers down either. But it is our tradition. And also I think it rather cements the close relationship I like to have with my Head Girl.'
Pam had the sweater off now and was standing unhappily with her hands at her sides. Conscious of her quite big tits in the tight blue blouse. Mr Hanfield's eyes were on them too.
'I see you've grown a bit since you wore this . Mmm? Yes quite a big girl now…'

Pam gave an involuntary little yelp. The Head's hands had come up and he was lightly holding them. Gently squeezing her tits through the thin blouse.
(To be contd.)