Here are the missing images for Chapter XII:


Pictures
: Irmgard in the hands of her abusers - "If you submit, nothing will happen to you and we will let you go..." (two variants)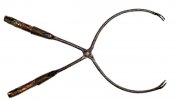 Pictures: Malicious witch pliers with sharpened, split teeth to bite through the skin and with long arches to penetrate deep into soft tissue - with demonstration of the application. When heated, these slim 'witch pliers' have an extraordinarily cruel effect...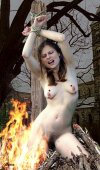 Picture: Irmgard receives glowing hot pliers and burns at the stake as a witch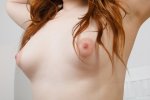 Picture: Proud witch tits: Dangerous for those who let themselves be seduced by her breasts, far more dangerous for the accused witch herself, because those proud breasts stir suspicion.

Picture: Naked witch rides a he-goat, a symbol of the devil



Picture: The mother throws herself off the cliff and at the same time also to her death because she cannot swim...
The End