I would imagine that almost everyone here is familiar with Albert von Keller's 1894 masterpiece
Im Mondschein
(
In the Moonlight
), but just for reference I'll offer a thumbnail linked to a modestly-sized version thereof.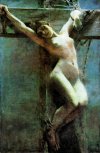 (On my hard drive I have a couple of high-res versions of this painting, about 8000x12000 pixels, and if I ever figure out a way to offer that without blowing up Cruxforum's servers I shall.)
This painting (the original is 150cm by 100 cm, oil on canvas) was the subject of a lot careful preparation by von Keller. I've recently come across three of his preparatory studies which I post here for those who are interested.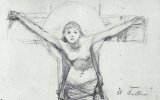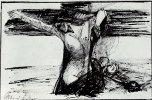 The studies are dated to approximately 1891 and are respectively lead pencil on paper, charcoal on paper, and oils on paperboard.
Von Keller apparently continued with crucifixion imagery after
Im Mondschein
.

This painting from 1903, also oils on canvas and larger than
Im Mondschein
is titled either
Alpträume (Nightmares)
or
Visionen (Visions)
.
The artist himself, just in case you were curious, photographed in 1898.

My source captions the image "Albert von Keller im Jahre 1898 in der Ordenstracht eines Ritters des königlichen Verdienstordens der bayerische Krone," which I take it means that all that fancy tinwear he's wearing he got when he was knighted by the Kingdom of Bavaria, presumably for his contributions to art.
Sources for further reading and art perusal:
Oskar A. Müller,
Albert von Keller 1844 Geis/Schweiz - 1920 München
. München, Verlag Karl Thiemig: 1981.
Jo-Anne Birnie Danzker and Gian Casper Bott, eds.
Séance: Albert von Keller and the Occult
. Seattle: Frye Art Museum, 2010.