Angelica Smith Peers out through the bars of her cell. She looks at the reporter and with a pleased sigh she says "Did I 'ice' her? Damn right I did! I put a bullet right through her eye. The bitch was dead before she hit the ground!"
'Spike' Sharp from the
Crux Chronicle
shakes his head and says "You don't seem too upset you killed her."

"Listen, I made five grand when I shot the guy's wife when he was running against the governor. That more than you make in five years!" Angelica proudly says. That happened in 1930, quite a sum back then. "I put a bullet in her forehead and never was caught for that one."

"You knocked off Libermann's wife?" Spike asks amazed to hear this.
"You bet I did! But when your paying customer
is
the governor the cops tend to look in… shall we say… the wrong places" Angelica purrs.
"So how did you get caught killing Miss Morgan" he asks.
"I didn't know she was doing the bureau's top cop. I'd have never iced her in front of the movie theater but she looked damn good lying with her head blown apart as she was sprawled on the marble walk out front" Angelica brags.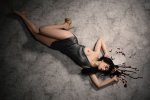 Spike lights a cigarette. He looks at Angelica and says "So they are going to do you tomorrow."

"Tomorrow's the day. You going to be there?"
"Yeah, and taking pictures" Spike says. "You getting executed is big news."