Rebel Leader
Staff member
26. EPILOGUE
For the Japanese, their victorious Bataan Peninsula campaign ended with the surrender of the American island fortress of Corregidor on May 6, 1942 and the completion of the infamous "Bataan Death March" with the final internment of as many as 60,000 American and Filipino POWs in prison camps, where many would suffer and die of hunger, disease and maltreatment.

On Bataan, intrepid bands of Filipino and American fighters persisted in carrying on a bitter guerrilla-style campaign against the occupying Japanese forces until the Philippines were finally liberated in 1945.

Among these bands was the one jointly led by Alejandro and Whitaker, who learned over time to bury their differences and work together for the good of their common struggle. Both survived the war, as did Whitaker's two sidekicks, Norm Kowalski and Clem Papeleux.

Alejandro was celebrated after the war as a popular hero, and was elected for repeated terms of office as Mayor of Balanga.

Whitaker returned to the states and settled down in Los Angelwhere he wrote a published memoir of his wartime experiences on Bataan.

Kowalski returned to his native Chicago, where he married, moved to the suburbs, raised a family and made a living as an insurance agent.

Papeleux went home to Louisiana, where he opened a successful Cajun food eatery on Bourbon Street in New Orleans' French Quarter.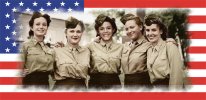 ​
None of Barb's nurses survived the Bataan Death March, although nurses from other ANC units did, and a few made it home from the POW camps following liberation in 1945. An American graduate student who in 1978 wrote a thesis on the fates of U.S. ANC nurses taken prisoner on Bataan, interviewed an aging Alejandro and learned something of Barb and Natalie during the brief time they spent with his partisan band, but could unearth nothing about their fate after Alejandro lost contact with them following the raid he led on the Lubao compound. The official communication their parents received from the War Department simply listed them as missing.
On the Japanese side, Lieutenant General Masharu Homma, commander of the 14th Army, was relieved of his command shortly after the fall of Corregidor, due to his deteriorating relationship with his superiors at Southern Army Command over his alleged lenient treatment of his adversaries and the Filipino population. He was sent home to Japan and forced into retirement in 1943. Soon thereafter The New York Times erroneously reported that he had committed suicide. After Japan's defeat, he was tried in the Philippines, ironically for failing to prevent his subordinates from committing war crimes, and was sentenced to death by firing squad.

Captain Tanaka survived the war, and prospered as the founder of a highly successful Japanese manufacturer, first of transistors, then microchips. He courted and married a girl from the American Midwest, whom he revered. But tormented by guilt and nightmares of what happened in the war, he poured his energies and fortune, late in life, into supporting a number of charitable foundations dedicated to alleviating hunger, disease and violations of human rights around the world.

Major Ohno continued to serve in the Philippines where he, as in the story, persisted in undercutting General Homma at every opportunity. A few days prior to Homma's dismissal, Ohno was run over and killed by a lorry when crossing a road just outside the town of Lubao. The lorry continued on without stopping, and investigators were never able to identify the driver or find the lorry.

Lieutenant Kinoshita spent the remainder of the war assigned to the Camp Donaldson POW camp where, in recognition of his work in Lubao, he served as the garrison officer in charge of executions. He was killed when the camp was liberated in 1945.
Private Sadao Sanao was shipped later in the war to Guam when the Japanese High Command ordered reinforcements sent there to bolster the existing garrison's ability to oppose the anticipated U.S. invasion of the island. He met his death, along with hundreds of others, in a desperate last-ditch banzai charge against a firmly entrenched U.S. Marine position.
Last edited: