Bridewell, my Penance, my Pain. Part 1
Bridewell....my god, what had I done. I was so sure of myself. When my husband had died, I thought that I could still survive with my dress shop. But soon the debts my husband owed started to come due. He had wooed me into loving him in such a short time. Maybe it was because it looked like I had some money. Maybe that's what he thought 9 months ago when we were wed. When he was killed in the carriage accident, I was left holding his debts. Debts that I didn't even know existed. His creditors came at me like banshees. They cared little that I was unaware of his financial situation, only the I was his wife, and I was his sole heir. His financial hardship became mine.​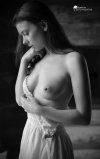 His debts were so large that I lost all I had to his creditors. My dress shop, my meager home and all its furnishings, our horse and carriage, and all of my personal belongings. I was left with only the dress on my body. Nothing else. But it wasn't enough. More debtors came, demanding payment. The judge who was ready to cast me out onto the streets, changed his judgement. My creditors demanded their piece of flesh. One of the newest creditors to come forward was a man I knew. A man who had made rude and suggestive advances to me a number of times. Advances I had spurned with fury. The last time I had seen him had been months before I had married. I had publicly embarrassed him, slapping his face, in front of his friends.

I could see this vile man smirking in the gallery as the judge passed sentence. Because my means were insufficient to meet the needs of my creditors he sentenced me to no less than four years in Bridewell Prison workhouse. In light of the fact that I had shown such cheekiness by not accepting the debts of my late husband as my own, he additionally sentenced me to a public welcome of 40 lashes, I was to be stripped naked and take 40 of the best with a prison strap on my bare back and buttocks. Further public punishments due to behavior issues were at the discretion of the prison staff, as well as the farewell at the end of my sentence.



He reminded the creditors that the welcome whipping was open to the public as well as any additional punishments I would accumulate. I shuddered as I thought of the vial man I had spurned, seeing me naked and punished. He smiled at me wickedly, undressing me with his eyes. Unbeknownst to me, he had friends in the prison. He would have his friends trump up charges of laziness and disobedience so that I would be a part of the quarterly public punishments on a regular basis.