I'm shuffling down the back roads. I round the curve and what do I see but a bevy of naked women all nailed to crosses! Not being one overcome by such a sight, I take a moment to look they over. Whoever was in charge of crucifying them did a fine job.

They are mounted on tall crosses and nailed to their crosses to spread them out for easy viewing.

Not that they could, but there is no way they can cover themselves. The trio of spikes hold their arms spread wide and their feet crossed over the stipe.

It is a wicked way to punish somebody. They are displayed quite completely for any passer-by to see them.

The women seem as overwhelmed by being showed off as they are in pain being crucified.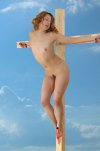 I stop by one of the crosses. The woman is obviously feeling the agony of being crucified. She squirms between the spikes but there is no escaping the nails that are pounded through her wrists and feet.

My curiosity is raised so I ask her what she did to deserve being nailed to a cross. She glares down at me and says the government wanted their land and she and they others wouldn't sell the farm.
I'm not much of a government guy and I say "So they crucified you?"
She rolls her back against the stipe and groans "There is more to it than that! Can you get us down?"

I may not be a government guy but I have a still back at my place and I hardly need the government coming round. I say to her "Tell me more."
She huffs the best she can and says "It is a long story… and my name is Barb, by the way!"

"We both have time. I'm off today- it is Good Friday- and you don't seem to have much else to do but hang around up there" I note.