Last night, I had a beer (or two) too much, which resulted in a series of surreal dreams. In one of them, I walked past the parking lot of my local shopping center where I witnessed the following scene: A naked woman, tied in a similar way as Krysta Kaos in the Device Bondage scene below. Only that she was not tied to a wall, but to some mobile contraption.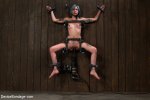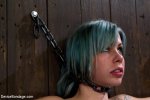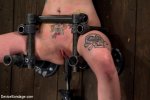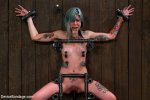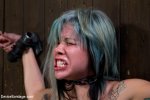 Covid lockdowns weren't a thing in my dream, so there was quite a large audience. As I joined them to watch, I found out from the others, that the woman had been sentenced to public execution through a fucking machine. And indeed, the contraption featured a machine which was mercilessly driving a dildo in and out of the condemned woman's pussy. According to the others spectators, the whole thing had been going on for several hours already. And the woman was in a bad shape, exhausted and close to fainting.
It was one of those dreams you do not forget moments after waking up. And the whole day I have been asking myself, if using a fucking machine as an execution device would actually work.
Sure, if you constrained someone like the woman in my dream was tied, they would eventually die due to a lack of water or food or (especially in winter) due to exposure after a certain time. But what if you added a fucking machine? Would this only be an additional humiliation/torture or could in actually be the cause of death? My possible "yes" answers are:
- Death from internal or external injuries caused by the mecanical penetration
- Death from exhaustion (i.e. a circulatory collapse caused by the constant arousal)
What do you think about this?