From the city walls the sisters, cousins and friends of the volunteer girls witnessed the hideous scene for hours, and they could hear the desperate howls of the damned.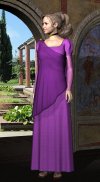 The girls watched the rape and torture of crucified girls with a mixture of fear and sexual arousal.

Ha, ha, laughed and mocked Legatus in front of the cross where the chief's daughter suffered. If a hundred more girls like you offer themselves as slaves, I swear I will forgive the city and not ravage it!.
That was nothing more than boastfulness, but again the girls of the city surprised him because that same night he received a message in which a hundred of them offered themselves as slaves to be crucified in exchange for the city.
The Legatus was a man of honor so he had no choice but to keep his word and forgave the rebel city.





That same night dozens of girls volunteered and submitted to the legionaries. Some dressed in light clothing to be quickly undressed and others directly naked. As they fell into their power the legionaries bound them with strong wet ropes at the wrists and elbows.