(Part 3 of 4)

"Lie down and pour the contents of the bottle into your ass," instructed Mahdi next. She complied and carefully went down on her side, still keeping her vulva wide open for all to see while she slowly tilted the bottle inside her ass. She whimpered as she felt the cold liquid pouring into her rectum.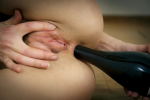 "That's not how you do it," said Mahdi and he instructed her to get on hands and knees while he grabbed hold of the bottle. He shook it, causing the liquid to froth and foam and erupt from the bottle into her bowels. Alisa gasped and cried out when she felt her colon expanding under the massive eruption.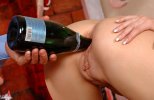 "This is what we want to see," said Mahdi, emptying almost half the bottle into her ass. Alisa felt her head spin and since the wine was quickly absorbed by her bowels, she felt herself getting slightly drunk.
"Now take the bottle and clean it before you stuff it in your twat," said Mahdi while he pulled the bottle from her ass and handed it to her.

Alisa winced as she was forced to lick the bottle. It smelled like her ass and tasted filthy. But Mahdi wanted her to clean it thoroughly.
"You don't want to take it in your womb dirty, do you?"
"What do you mean, take it in my womb?" whimpered Alisa.
"You heard me. I want that bottle to reach past your cervix into your baby chamber."
Alisa shivered. Licking the neck of the bottle she felt it was a huge and very solid object. Pushing that into her cervix was surely going to hurt like hell.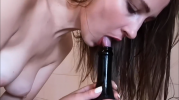 "Don't just lick the tip," commented Mahdi, "take it deep into your mouth, get a feel for it and imagine that going into your womb."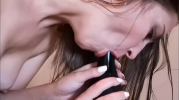 Alisa shivered at his words, but sucked on the bottle, taking it as deep as she could, while tears streamed down her face. This was proving to be much more horrible than she had imagined.