There is not a pain more useful, true and magnificent than a Woman giving birth. Think to her poor vagina and vulva literally ripped apart by the baby going out ! The Woman giving birth feels in same time Pain & Joy to perpetuate the mankind.... See this video I found ....
https://www.heavy-r.com/video/197966/Giving_birth/
. I love this kind of performance ! Think to the orgasm she got when being impregnated by her male ..... Think to the volupty she felt when seeing the baby growing and moving in her belly during pregnancy. And later, she's here, in the hospital ; at this instant it remains no orgasm, no volupty but only a pain which could last 12 hours of intense partum labor......
child delivery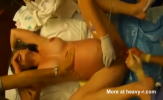 Last edited: