Awesome! I'll wait for your first animation with UE5, hopefully any blockers that happened to you on DS doesn't occur on UE5.
Right now they are not very good and inferior than what i ca do in Daz but i'm slowly getting there as Unreal Engine is mostly a game engine and more complicated than Daz
or Blender.
There are a lot of YouTube tutorial but a lot of them are about 2 to 5 hours long!
I will have to learn how to take advantage of the Unreal Engine advantage (superior lightning and mostly the real time rendering) before i can produce some good 3d art.
Here is some early results: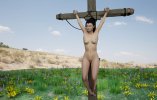 Some short " early access" animation:
https://mega.nz/file/l8NUFRYL#rUM2bMusdHLRmtenRZaYpBp5cBIaIvYrf0-rsezyY6s
https://mega.nz/file/Rxk0hYqY#WpgXPvm__TJJisnQtW1KKQ-2O__3lqKMxwNpX81HCmI