As soon as they finished crucifying the 50 slaves, they went to find Sofia.
As the script of the film said, she had been left for last and as the person responsible for the plot against her life, the "emperor" had ordered something special for her.

To lead her from the prison to the place of the torture, they tied her hands behind her back and the same rope was passed through her crotch for an executioner to pull. Thus, Sofia had to walk, brushing her sex and anus with a rough rope of hemp.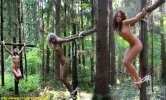 The girl walked among the crosses where beautiful naked women writhed in pain and despair. The girls already had pains and cramps all over their bodies while dozens of mosquitoes were feeding on their wounds.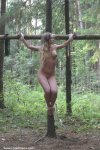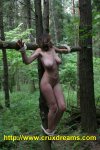 Some girls had already been crucified for a couple of hours and begged their executioners to lower them from those thrones of torment. In fact, more than fifty hours of slow agony still awaited them before they died.

Sofia passed between all of them and finally reached the place where she herself was going to suffer her ordeal.
The girl froze before the hell that had been prepared for her.
Jess smiled when he saw her appear.
- Well here is finally the protagonist. From now on the cameras will focus on you, act naturally, let yourself go that Muñoz will take care of everything, ha ha.

And after giving her a kiss on the lips, he separated from her and said.
- Action!