Twenty executioners took turns one after another fucking Lydia on the torture rack.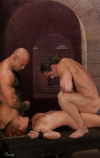 - This was your dream, no bitch ?, to be fucked by your executioners. Every day you are eating thirty or forty different cocks, so you are sure to be satisfied, ha, ha.
After covering in semen, the tycoon approached her.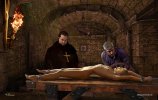 - Listen nasty bitch, the irons are ready, are you going to confess that you are a witch? You know that if you do, you will be executed in the breaking wheel.
- No please, a quick death please.
- Ha ha, you know it takes several days to die on the wheel and you will eventually be eaten by the birds while you are still alive. Come on, confess!.
- NOOOOO.
- Pinch her tits withe the red hot tongs.

- NO, no, NO, NO, I BEG YOU.
- Can you feel the heat whore?

SSSSSSHHHH
- IIIAAAAAAAYYYYY
- Come on witch confesss
- I AM NOT A WITCH I AM NOT A WITCH
SSSSSSHHH
- AAAAYYYYYYY

After the red hot tongs, the executioner dropped melted tar over her nude body little by little.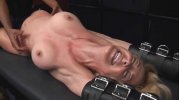 - IAAAAYYYYY, MY GOOOOD STOP, PLEASE STOP.

The torture went on for three hours more and then the executioners stopped for a while.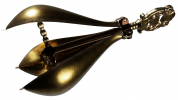 "The Pear of anguish is probably one of the most gruesome torture devices created by mankind, but I'm sure the vaginal pear was not created by a woman as the pain it causes in the female cavity is as terrible as childbirth. Cold or burning, it entered the woman's vagina and dilated its walls little by little, opening the vaginal cavity and uterus three or four times its size. The pain was so excruciating that the woman would sell her daughters to escape it. Of course the vaginal pear could have been created by the Devil himself, but in that case that would show that the Lord of Hell is a man and not a woman".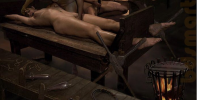 - Do you remember this?. You wrote this paragraph. Well just now you are going to be tortured with this hideous device, Are you ready Lydia?
- The prisoner´s pussy is wet and ready for the pear.
- Well first use the pear cold, when inside we will heat it.
- Yes, my lord.

- NO, NO, PLEASE, THE PEAR NO, THE PEAR NOOOOO.
Last edited: