Cries and screams did not stop him as he stroked the thick black hair of sex and introduced first one and then two fingers into the contracted vagina. The old man's bony fingers probed the warm wet channel until Claire's breathing became labored and her moans slower, deeper and more rhythmic. The slit tightened around the insistent fingers and their slow and continuous movement in and out produced an extremely sensual sucking noise after a few moments. Claire closed her eyes helplessly to resist that humiliating and delicious torture at the same time, and she felt a slow and unstoppable tide coming from afar, rocking her bowels.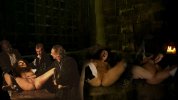 "Our restless guest has become a tender kitten, huh ...? Well, there's nothing in here, not yet at least. Turn her on her stomach!"
Claire let out a long moan of frustration and humiliation as his two fingers pulled out of her sex, leaving her unsatisfied and frustrated. Shocked by the growing passion shattered by those words, she could only oppose with some useless whining to the brutal grip of the guards, who forcibly turned her belly on the table of the governor of the fortress and presented her full and firm buttocks to their commander. Before Claire could realize what was happening, her buttocks were spread wide and two of her tormentors bony fingers forced her anus, moving up her rectum to her last phalanx. The beautiful prisoner screamed in surprise, humiliation and horror at her brutal penetration. De Launay's fingers resumed his brutal inspection in the narrow orifice, heedless of the beautiful English woman's screams of pain and shame.
"The road to Sodom is pretty clear, even if it is a bit narrow. But you will see Madame, it is a journey that we will travel together and that you will not be able to forget. And now close her in a dungeon with bread and water. You will share it with the Bastille rats, you filthy slut, and they certainly do not get scared in front of this beautiful black cat of yours! ... "added the governor of the prison, returning to torment the sweet wet slit of the prisoner. - I will make you taste a old gray mouse, which I know, and who is still capable of feats ... - The sentence died on his lips, as a faint moan came from his lips and he rubbed his pathetic non-existent erection.
"Bring me the key to her cell, even the spare one. This prisoner is reserved for me. And tomorrow she will have a nice walk around Paris. Put something light, Madame, it will be a sultry day. I think your skin will be enough to cover you. , at least until you are covered with lashes and insults! And on your return we will resume our interesting conversation about hungry kittens and fighting mice ... "
The soldiers unwillingly accepted the order to hand over the cell key to the old pig, they had other plans for that night, but they were soldiers accustomed to sieges and they knew that a long-sought victory gave even greater satisfaction.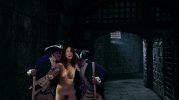 the story continues...