"Oh, Marchesa, please don't. Let me do it alone. Don't do that, ooohh, please, ... Stop I beg you, I'll do it myself, I'll do it alone ..."
"You can't alone, it's a grave sin. But if it's a dear friend who loves you to do it, then that's no problem. You don't want me to have to tell my husband that I was disappointed in you, do you? ... "
Claire knew she had fallen into a trap. That woman wanted to possess her no more and no less than the men who had preceded her. At least her touch was gentle and her soapy finger moved in and out of her love channel with slow, deep, regular movements that immediately turned her on. With the other hand the marquise began to lather her breasts, stopping in particular to titillate her nipples which immediately responded to that exciting touch of her. The combined action of her two hands became irresistible and Claire found herself half crouched in the tub in a frog position ready to jump while the Marquise teases her irresistibly in the most sensitive parts of her body. When her finger came out of her vagina and through the narrow slit reached the narrowest and most reserved back hole, Claire tried in vain to get up, but the hungry woman stopped him and began to tease the opening of the anus with her middle finger.
"Those pigs have possessed you here too, haven't they?" she asked her slowly sticking her finger into her sphincter as Claire winced.
"Yup." she murmured with her eyes closed, while her finger slowly bore the small hole and gradually went deeper and deeper. "Please, Madame de Launay, enough ... I have never ... with a woman ... never ..." Claire replied with her eyes closed, fearing at that moment that her interlocutor would be offended by her refusal but not being able to bear a lesbian relationship, especially with that oppressive and unpleasant woman. The Marquise actually looked a little resentful at first and stopped touching her.
"I understand, - she said, getting up and going towards the cupboard from which he had taken the cup and the teapot - I just wanted to be kind to you, but if you don't want to ... Allow me at least to offer you this excellent cognac, made with my hands. after the tests you have undergone and it will give you courage. I am sincerely your friend and I will speak with my husband to make your stay here at the Bastille less difficult. Drink my dear, courage… ".
Claire, a little suspicious, took the glass in her hand and sipped it slowly, finding the liquor a little too sweet for her taste but not unpleasant.
But when she tried to get up and out of her tub her head began to whirl and as she fell forward she felt her greedy hands of Madame de Launay grab her tightly around her waist and drag her on the canopy bed. The last memory of her that remained imprinted on her was a fat and voracious hand that caressed her right breast and a female voice that whispered in her ear "now you are mine, you filthy little English cunt! ..." .
When she regained consciousness she was lying naked on the bed with the wrists tied tightly to the ankles with two strong ropes. Her butt protruded from the edge of the bed and her ankles had been tied to the solid wooden posts that supported the canopy, so as to Immobilize her with her thighs wide open and both of her lower orifices open to any possible abuse. De Launay had then gagged her and left her completely helpless and defenseless. She desperately looked around her but did not see anyone in the room, but when despair and a cramp in her leg made her moan then she heard a noise coming from the next room and soon after, in the corner of her wide open thighs, just above his hairless mound saw the obscenely fat marquise appear in her nakedness. In one hand she held a whip made of seven long leather cords, each of which ended in a large knot; in the other hand she instead she was holding a large black leather club about thirty inches long and about two inches thick at the tip and that tapered off and towards the hilt.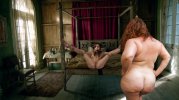 "Ah, Madame Fraser woke up? Well, I didn't want to start our game without you being there ... So you never made love to a woman, huh? I have a hard time believing it, you naughty little whore! Is this your gratitude, after I saved you from those male beasts? Well now begin your education, my dear, and I will make you as good and helpful as all the others. Oh yes, ... moan, moan well in your gag, nobody will bother us here. My husband is away for a few days and no one can come to this wing of the fortress without my permission…. " Claire watched her with wide, pleading eyes as she swung her whip and slowly passed it to him exactly where her wide open thighs met. The delicate passage of the leather straps between the folds of her sex made Claire moan in fear and excitement at the same time; she shook her head desperately with her eyes bulging in her terror as that smiled wickedly and tickled her tender slit with the gentle stroke of the whip over the delicate, sensitive flesh of her gaping vulva.
"I know how to be as good and gentle as the touch of this whip when I feel loved and desired, but when I am rejected ... - de Launay quickly raised her arm and let a deadly blow fall on poor Claire's exposed perineum with all the strength of her. Claire screamed in pain in his gag, and that blow was immediately followed by another and another in rapid succession. The poor prisoner could not escape the atrocious punishment that hit her right on the most delicate part of her body and which continued with cruel precision.
Swwwwwish THWWWAAACK!!
"UUUUUmmmmhhhh !!!!"
Swwwwwish THWWWAAACK!!
"UUUUUmmmm-pphhhh!"
Swwwwwish THWWWAAACK!!
"NNNmmmmhhuuhhmmm! NNNmmmuuummm! "
The lips of her cunt were a throbbing mass of pain as de Launay's thick arm continued to descend and hit that delicate part of her, now completely streaked with red. Soon the prisoner's large and exposed breasts also became an easy target for the blows of her tormentor, whom she beat and laughed with sadistic pleasure. She only stopped when her arm got tired and the poor victim had used up all of her tears. Then, lying on the whip bed, she grabbed the club with her right hand and went towards the tub that had served Claire for bathing and with studied slowness she began to lather the whole leather club thoroughly, continuing to look at Claire's exposed body. , who squirmed uselessly on the bed and shook his head desperately.