I had just turned nineteen when the law passed. The Department of Moral Authority (DMA) was formed to enforce the law. Women accused of promiscuity were arrested and taken to the town square where they would be executed. They would be brought to the square wearing only the ropes that bound their hands behind their backs and were taken to the gallows to be hanged by their necks until they were dead. Many, no- most, resisted the efforts to hang them.

It didn't matter. With their hands tied and strong guards escorting them, the women were quickly placed in the waiting noose and they were hoisted up and hanged.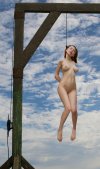 The women would take several minutes to more than a quarter hour to die and they would be left hanged by their necks the rest of the afternoon until that evening when their bodies were removed by the sanitation crews.

Their bodies were brought to the pig farm to be used as feed for the swine.

It was good to know some good came from their deaths.
As time passed, more women were brought to the square and they had to build a gallows that could hang more than one woman at a time. With a long beam they could hang seven women at a time. I would go to the hangings to see the women do their final dance as the ropes slowly strangled them. That me in front of the third woman from the right.

I easily could say the women got what they deserved and that's why I came to watch. I would wander beneath their hanged bodies, marveling at the beautiful bodies hanged above me.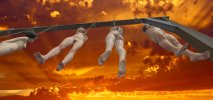 I could justify my inspecting the hanged women's bodies by saying I was admiring the fine work the DMA had done by hanging these women but there is more to the story than this.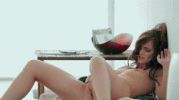 After each hanging I witnessed I would go to my room and remember their final dances. It caused me to do things best not discussed!