I got myself in this mess. I just wanted to be hanged before a crowd of people that would be entertained by my final dance as I am put to death before them. It has become a more frightening event as my hanging draws near. Everyone who seems to know about hanging someone to death relishes in the suffering I will experience in my final minutes as I hang by my neck. I'd talk my way out of this if I could but tomorrow I will be hanged just like Margo was. The evidence- and the expected crowd- makes my execution a done deal!
It is midmorning when I am taken from my cell and brought to the constable's office. I am dressed only in the cuffs that lock my hands behind my back. In the constable's chair sits Ms. Carnage. She is the woman that is in charge of seeing my hanging will be up to DMA standards. That means she will oversee my hanging is more than a swift way to terminate my life!
Ms. Carnage has a mound of papers on the desk and looks up at me. With an evil smile she says "Ms. Butler, I have reviewed your case and it seems you designed it to insure you would be hanged."
There is no point in lying. I admit since they hanged Margo I have wanted to be hanged just as she had been. Ms. Carnage lights up a Madame Wu and calmly states "I'm sure we can achieve that. In fact, you are a smaller built woman. I think you should take minutes longer than she did to die."
Her words would have excited me weeks ago when I was planning this and even now my pussy reveals my excitement of being hanged by my neck. But today fear creeps into my stimulation. I ask Ms. Carnage how long I might last once I am hanged. She cheerfully responds "Ms. Butler, I would be surprised if you expired in less than twenty minutes. A half hour is certainly possible!
"But I have another concern. You seemed to have had intercourse almost every way possible with our agent Mr. Sharp. You even sucked his member after the two of you fornicated, yet you avoided anal sex. Ms. Butler, is there a reason for this?"
I am taken aback by the question. I stammer "I don't do
that
!"
Ms. Carnage tisks at my response. She replies "We can't hang a slut like you with a virgin ass, can we?"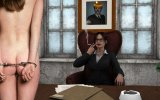 "Guard, take Ms. Butler to the courtyard and remedy this situation" Ms. Carnage orders with a sadistic laugh. I clinch my hands in fists but what can I do?
I'm taken to the jail's courtyard where my handcuffs are removed. The guard stands by a pillory and says "It isn't going to come to you. Put your neck and wrists in the cutouts or we'll do it for you."
I realize I am about to have my first anal sex bent over in the pillory. There is no avoidance of what is to come.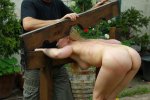 One of the guards lowers the top crossbar and latches it to the bottom one.

One of them sways my butt and says "Lots of women get off on this!"
I hear a pants' fly open and a pair of thumbs pull my buns apart. A head of a hard cock burrows between them and presses against my cinched rectum. The guard says "Relax, Karen. You might enjoy this."
I let out a terrified scream as the oiled hard-on drives into my anal canal.

My buggering lasts a few long minutes before his cum is pumped up my bowels. He withdraws and I think my violation is over, but there are two more guards left. The last one they called 'Bull' forces his hard cock into my ass. Damn, he is aptly named. His cock feels like it is tearing my butt apart and he drills my ass longer than the first two combined!
I think my ordeal is over but they leave me in the pillory and take turns whipping my ass and thighs.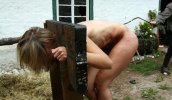 They show no mercy on a condemned prisoner. I am removed from the pillory and the shackles and handcuffs are locked on my ankles and wrists. 'Bull' takes me back to the dungeon. He assures me the welts from the whipping will disappear by nightfall and I will look 'perfect' when I am hanged tomorrow.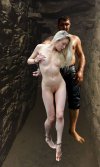 That night I sit in my cell. It is less than a half day until I am hanged.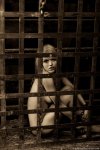 Bull was right. The welts have disappeared but they still hurt!