All these photographers just seem to have the one hat to pass around to the models.
Low budget operation?
The models did the hat well!!!
Very sensible, that hat, got to protect your self from the sun . . . . . . . .
I am trying to identify whose hat they have borrowed for all of these photo sessions. This leads to a certain amount of speculation...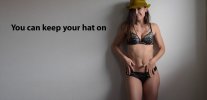 ​