In the 21st century, Mademoiselle Desiree became heir to her father's kingdom. While appearing to be a respectable woman Desiree was a woman with a dark side.

Desiree seemed much like her father, being a leader with seemingly minimal involvement in her subjects' lives. But she was skimming off the military's budget to finance her harem of women lovers.

This did not sit well with the military leaders who were use to generous pay and whatever 'toys' their enlisted men needed or wanted. Desiree's rise to power was tinged with rumors that she had her father's death 'expedited' though no proof was ever made public.
One of the women in Desiree's harem was a woman named Helen. Desiree enjoyed her time with Helen though she felt Helen wasn't putting forth enough effort to please Desiree's insatiable desires.

In time Desiree felt she was wasting time with Helen and had the woman arrested by her palace guards for insubordination.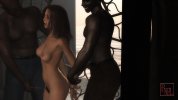 Since being insubordinate to Desiree was not a crime per se in the land Desiree ordered Helen hanged without bothering to have her tried for any criminal activity.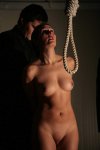 Little did Desiree know that Helen was the niece of the head of the palace guards. Helen's gruesome execution was recorded by one of the guards.

It would take some time but Helen's execution would lead to Desiree's downfall.