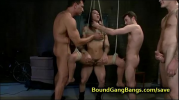 And yet, that was what they had to do. As they still had a little time before unloading their intestines, some guys had played the right way to flip them like that. So they approached them with their dicks out and happy with their good luck. Some undressed completely to fuck more comfortable.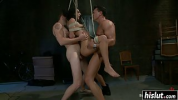 They penetrated two girls almost simultaneously and with little resistance because they were hot. While they were being fucked, the rest touched and sobbed at pleasure everywhere. The guys had to have balls full because they did not take long to finish. As those beasts ejaculated inside their vagina with violent jerks they were replaced by others with their cock already stiff. Luba came a couple of times, but to Nadia the violent pains in her intestines would not let her.
In the end they had been fucked seven or eight guardians each, the truth is that they lost the account, but the fact is that when they decided to remove the anal plugs the two distilled abundant sperm from their bare skin.
- I want you to keep it in there, do not even think about getting yourself to shit before I order you bristles, the guy in the hose shouted. As good slaves, the two girls obeyed and that they were dying to loosen their bowels and twisted in their bonds as worms in the hook.

The men scoffed at his gestures of despair and laughed heartily after hearing a loud fart that escaped Luba. Finally she could not take it anymore and a jet of pressure shit came out of her anus into the sinkhole. The enema was this time so powerful that the young woman felt a deep dizziness and writhed in her bonds, rolling her eyes. Nadia did not take long to imitate her, no matter how humiliating and disgusting it was.
These pigs laughed at the two beautiful young girls, letting go of that filthy diarrhea, while they covered their noses and made obscene and despicable comments about them. Two girls took a long time to release everything with loud rasps and when they finally finished they turned on the hose and did not stop showering until there was no trace of the crap.
After the toilette came the soaping. One of the guards sprayed the two girls with gel all over their bodies while another six armed with brushes arranged themselves around them smiling like naughty children waiting for their turn.

Effectively each of the two was conveniently "attended" by three guards who left no corner of their body unbrushed. The brushes must be made of metal bristles or at least it seemed to the two poor masochists who shouted and cried in pain while rubbing them with rage until they almost skinned them.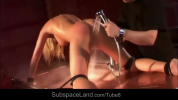 More than ten minutes they invested in washing the two slaves well until they left all the skin reddened. To their relief they finally stopped brushing and then another abundant spray of water came to remove the soap.
This time the "shower" lasted almost an hour. When they finally let Nadia and Luba off, they were both so faint that at first the guards continued to stagger.
Again they tied their arms behind their backs with thick ropes and took them to the close room for breakfast. There they were handed over to a different group of guards. Some of whom already had the dick outside announcing to the two slaves what breakfast would consist of. In fact, as soon as the gag was removed, two girls crouched down to lick the usual milk from two bowls. They were already bent to start licking, when a very rough guy kicked the bowls spilling everything on the floor.
- Ha, ha, ha, today you will not take anything all day, so if you want to fill your stomach it will have to be with what comes out of our cock.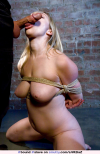 The guy pulled his smelly cock out of his pants and put it on Nadia in front of her face. The young woman looked at him with her beautiful eyes and submissively began to lick the glans as she watched as four other guards approached her with their cocks outside.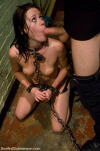 Two feet away Luba was also kneeling with one limb bulging her cheek and her pussy soaking wet even though it had been cleaned recently. The two lesbians had never eaten so many cocks in a row or swallowed so much, but they spent almost another hour felting it to everyone who passed by.

Although two women tried to swallow as much as possible, in the end they had their faces and torso full of liquid sperm, so the guards forced them to lick each other until there was no drop left.
Anyway, in the multiple blowjob, the girls could not prevent a certain amount of semen falling to the ground. A guard cleaned it with a couple of rags soaked in sperm and then put them in the mouth of the two slaves, making sure they could not spit them with insulating tape.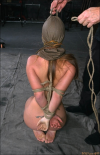 Then with some brutality they put on leather hoods that completely blinded them and gave an unbearable heat to the head.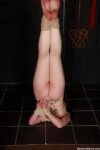 Then, after disorienting them by making several turns on themselves, the two young women were dragged with blows and tippings through the corridors of the Krak, to the corridor where the torture chambers were lined up. Since they were all occupied at the time, the guards hung them from the ceiling upside down after six other women waiting for their turn. So hung up they opened some small side zippers and put a pair of phones on their ears so they could hear everything that happened in torture chamber number one.
In this way, Luba and Nadia spent about four hours hanging from the ceiling like two cattle, savoring the semen of the guards and without being able to avoid hearing the desperate cries of the victims who suffered torment in Chamber number 1, which was where they themselves were destined
When it was finally their turn, Nadia and Luba were taken off the roof and dragged to the place where hell was waiting for them. Before closing the door of the torture chamber, Ismail removed the hoods because he wanted them to see what awaited them.