I'm not keen on statues. Most of them are simply street clutter, passers by not noticing or having a clue who they're commemorating. Some are worth keeping for genuine historical importance and/or artistic merit, but I'd never subscribe to putting up yet more. And I'm perfectly sure Mary Wollstonecraft would have been appalled at the idea. There are much better ways to remember and celebrate her - like reading her writings, and thinking about and acting upon what they still have to say to us today.
I generally agree with you regarding statues, though this one of Albert Einstein at the National Academy of Sciences in Washington, is an exception.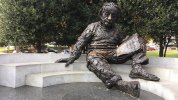 It really captures the spirit of the person and it's far from traffic, in a quiet grove surrounded by trees. There is no good reason for him to be naked, not that he didn't have a very active sex life, conducted largely in that state, but that isn't what he is known for.
As for the Wallstonecraft thing, all I can think of is that winter is coming and someone should lend her a coat...