Virginia was arrested as 'Lady Virginia' but was brought to the gallows as a convicted criminal sentenced to be hanged to death by her neck before her peers and the common folk. She had resolved to herself to die with dignity even as she was presented naked before the crowd. But the dignity Virginia vowed to maintain disappeared moments after she was hanged. Though the noose had yet to tighten and close her throat, the weight of her body conspired with the rope to begin the fatal hanging of Virginia.
She began to thrash to escape the noose only to tighten the rope around her neck. Her hands bound behind her back are useless extremities that futilely fight for freedom to help Virginia escape the noose.

Escaping the noose is Virginia's only priority but the hangmen know their duty. While Virginia fights for her life, the king's spokesman invites the men to join him for a drink.

They climb the steps for the unexpected offer while Virginia's thrash continues.
The town's clock tolls a quarter hour since Virginia has been hanged. Her futile dance begins to slow as the tightening noose strangles her towards her death.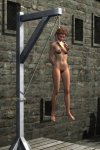 The crowd is satisfied that Virginia is dying hanged by her neck. Virginia's mind is clouded as she is choked to death as her body cinches the noose tightly around her neck. The shame of being hanged naked is no longer on her mind. Instead she tries to inhale the air denied passage to her lungs. It is denied from Virginia and she spends her last minutes conscious fading into the darkness of death.

Virginia has served her sentence. She dies hanged by the neck for entertainment of her peers and Brampton's commoners.

The crowd begins to thin. There is little point to stay as Virginia's body hangs dead from the noose.

The archbishop of Brampton approaches the gallows. He holds a special status in the Kingdom of Brampton. Silently he prays for God to forgive Virginia her sins but buries his hands in his robe, crosses his hidden fingers, and loudly pronounces "Virginia has paid for her crimes. Be gone, people, and let her body hang in peace!"

Even the archbishop is aware of his physical limits.