PRIMUS POENUS
Staff member
They must have known what they were doing there . . . .
The Roman Catholic church down the street from my place had this on their lawn for Christmas. I was walking with a friend and they had never seen the T-rex interpretation. I have imprinted this on their mind now.
They didn't know, I wonder how long it will take to seep into general awareness?
Cute classical reference

More classical humour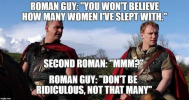 More dog humour


And the classic dad joke