This story is inspired by Jastrow´s crucifixion drawings (although I will use another drawings). They are hot, specially those where a crucified girl is fucked or molested by lubric rapers who take advantage of being helpless .
.............................................
The rebel city had resisted the siege of the Roman legionaries for two months, but the intense bombardment of catapults and ballists had weakened the walls and made the assault imminent. Besides three triremes had just arrived with reinforcements that blocked the port, preventing the arrival of any aid from abroad
The desperated besieged leaders asked for a truce, they knew they had no other choice.
Quinto Maximo, Roman Legatus and Emperor Army Main General demanded that in exchange for a four-day truce the besieged had to deliver ten young virgins among the young noble women of the city . They would become sex slaves for serving seven thousand soldiers. He made this demand thinking that this condition would not be ever accepted,....patrician fathers and matronas would never accept their daughters to be sold as slaves for they knew what those sadistic legionaries could do with them.
Althought to Legatus´ surprise ten young beautiful girls volunteered to give their fellow citizens a break.

According with the treaty, the girls were handed over to the Roman troops naked and bound. When legionaries saw that row of beautiful young girls naked and bound began to cheer and shout like crazy as they beat their shields rhythmically with their swords.

As they approached naked and bound to all those brutal men the girls felt their hearts pounding against their chest as their crotch got wet and warm.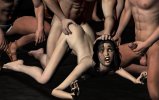 The ten girls served as sex slaves to the besieging troops for four days
. Each of them was fucked by eight hundred sex-starved soldiers in brutal gangbangs.

During that period, Claudia, the beautiful elder daughter of one of the rebelion leaders became Quinto´s personal sexual slave
Finally when the orgy finshed the legatus ordered the girls were crucified in front of the rebel city walls. This was done to undermine the morale of the besieged and to show the city's young girls what awaited them if they fell into the hands of the Romans alive.
Of course before crucifying them the girls were savagely flogged with flagrums and
they had to make a complete turn around the walls, carrying the patibulum on their shoulders naked and disgraced.



The girls had to walk and whipped and stabbed in the backs and thighs with spears.
Their relatives could see from the walls the sadistic procession of their daughters with heavy hearts and they cried desperately when the carnifex crucified them one after another with the help of the executioners.


The desperate screams of the girls when they were being crucified were confused with the blows of the mallets against the heads of the nails and the sobs of the mothers and grandmothers when they saw what those brutes were doing with their daughters.