When Adonia recovers enough, Quintus decided that they would continue to torture her at the same time as her young sister. To do this they forced her to ride the wooden pony and even hung weights from her ankles.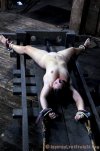 For her part, Callia had woken up after torturing her tits with the pliers. From the rack the young woman could see her poor sister's contorted face and wondered how long they would continue to question them. The fact is that it was true that they did not have an accomplice, they had received the letters and did not even know their content. Better if they had had an accomplice because confessing his name could free them from torture.

Very good carnifex, if despite the burning claws the prisoner does not want to talk, her pussy will have to be worked. It seems narrow and very sensitive, this whore has recently lost her innocency.
The carnifex began to touch and caress Callia's sex, masturbating her slightly. Yes, you are right legatus. This is better sir, so the pear of anguish will have more effect.

Do you know what this is, traitor? He said, showing her the pear, when you have it inside your pussy you will have wished you had not been born.
No, noo.
Come on, hurry up, canifex, I can't wait to hear her screams again.

No, no, please.

At first Callia only felt the unpleasant contact of cold metal against the walls of her hot vagina. However, as soon as he got used to it, he began to moan with pleasure.
Mmmm
Ha ha enjoy your bitch lover you'll soon hate him
Give it a spin ccarnifex , I want she to taste how it hurts.
At your service.

AAAYYYYYY
Ha ha, you can see that the inventor of this device does not have a vagina, said Quinto when he saw the woman's gesture of anguish.

IIIAAAAAYYYY, NOOOO, STOP, I WILL CONFESS WHATEVER I WANT.
Another spin.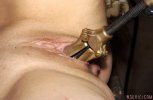 IAAAAAAA, GODS, AAAAYYY
Tighten a bit more, said Quintus through gritted teeth sadistically.
The young women continued screaming without being able to move a muscle and the torture continued. The labia were tight and between the gaps in the semi-open pear you could see the inside of the girl's vagina.
Callia's eyes were blank and her face was contorted with pain.

While continuing to tighten the screw, the carnifex put his hand on her belly to check that the pear was tightening the walls of her vagina from the inside.
Ha ha, it is said to hurt like childbirth
PLEASE,.....STOP....STOP....I CAN....NO....,MORE
Are you going to talk?

I'll.......I con.......fessss.... what....ever.....you...aahhhh
The prisoner has fainted, sir.
Well, make her awake, now we will torture her sister again.