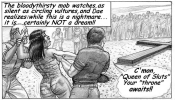 Other girls went to the cross with less "dignity"


In fact they fought and kicked desperately while letting out inhuman screams

But there was no mercy, also the executioners liked their victims to resist when they were nailed.....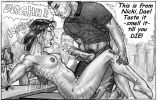 ....the more resistance the better.....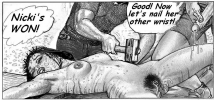 The girls couldn't even control their sphincters when the pointed nails pierced their wrists and they pissed, soaking the stipe of their own urine and semen.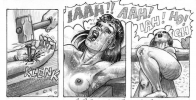 Everything was useless, their fate was sealed and nailing them was only the beginning of a long and cruel martyrdom.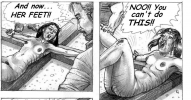 Nailing the feet was even more painful and unbearable than the arms and the crucified women screamed even louder and more desperately.
They did not even suspect that when the cross was upright and all her weight rested on the nails, the iron would wedge between the metatarsals causing excruciating pain. The girls believed that their feet were ripped in half as if slowly cut with a knife .....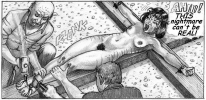 NOOOO, NOOO PLEASE, I DON'T WANT TO DIE LIKE THIS, NOOOO