Its been over a hundred years since T. H. Tree left Jerome, Arizona and moved to Northwestern Arkansas. He had a son who late in his life also had a son, known only as The Hanging Tree. He raised Tree near the small town of Springdale. Back in the late 1950s and early 1960s when Tree was a young boy, daytime traffic was mostly farm tractors and trucks heading from one field to another or to the town. Night traffic was feed trucks bringing feed to the brooder houses or heading home.
Not far away, Sam Walton was opening his store that would later grow to the Walmart empire. Life in Northwest Arkansas was quiet back then. But things started to change in the 1980s and 90s. Retirees moved to NW Arkansas with pockets full of money. Their presence drew young adults to fish for the money in the retirees' pockets and found a relaxing place to live that was fairly inexpensive and situated in the Ozark Mountains.
Then came the Covid-19 pandemic. The year 2020 was devastating to the tourist business and to states' sales tax income. Birthrates plummeted and, with rare bi-partisan support, slavery of women received approval.
Slavery was determined by lottery. Some women accepted their new status in life with grace willing to live their lives naked as owned slaves.

Wealthier or more comfortably raised women outright resisted becoming slaves.

They were still herded up and held to be auctioned.

The auctions themselves were quite profitable though somewhat demeaning for the women being sold.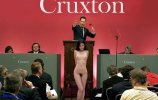 Some slave-women attempted to escape their owners. They were hunted down.

Then either returned to their owners or were put up for auction with their former owners getting 90% of what they sold for.

The balance was divided between the auctioneers and the slave-hunters. These are the auctions where Tree bought his slaves.