Swallow's Nest (3)


Momiji Restaurant and Cocktail Bar
Wow, he thought, this place is nice, very nice. He had somehow expected the décor to be reminiscent of a traditional Chinese restaurant, but he was faced with a contemporary looking, minimalist, modern cocktail bar that looked like most of the upmarket ones in downtown-anywhere, with pinpoint lights aimed at the row upon row of alcohol bottles sitting behind the barman.
There was a door to the left which led into the restaurant. Yulia was sitting at the bar, waiting. When she saw him, she smiled, got up and placed her hands on his shoulders as they quickly kissed each other's cheeks. Stepping back, he stared down at her body, Appraising her from her stunning features to her exposed toes.
"You like it?" She asked with a coyness that belied her dressing style.
Anatol wanted to speak but his throat had dried and so he settled for a definite nod of the head. He sensed that she was wearing a different perfume from yesterday. He didn't recognise it, but it was explosively sensual; oranges, musk, smokey after-scent, and that's just for starters. It was simultaneously intoxicating and unsettling for him ... maybe that was her intention.
"You look simply stunning Miss Jelic," he was finally able to say.
"Cool thank you. You don't look so bad yourself, Mr Radkov. Shall we order some drinks?"
They sat at the bar and took a look at the cocktail menu.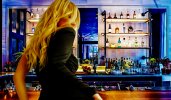 "I'll have a Moscow Mule," Anatol said with maybe just a touch of irony.
Yulia ordered a Revolver. The barman smiled making no attempt to cover up where his eyes were roving.
"I simply must ask Yulia, what is that perfume you're wearing?"
"That's so cool you ask me. You like?"
"More than that Yulia, I love it. It's extraordinary."
The girl smiled and took a drink from the cocktail that had now arrived.
"It really is cool of you to notice Anatol. It's called My Insolence. Made by Guerlain. Would you like to buy me some?" She giggled as she said this, knowing that the quiet laugh, her dress and her perfume were already delivering the necessary knockout blows to poor Mister Radkov.
"You never know," he responded with a similar sense of mystery.
"You think it makes me sexy and mysterious Anatol?"
"Without a doubt." In fact, it made him want to grab her and take her right there and then, but he was far too civilised for that sort of thing.
A young, open neck-shirted man of Asian, maybe Japanese, origin given where they were, walked over to them, rubbing his hands together, ogling the delicious looking girl that had entered his restaurant with an enthusiastic familiarity. His welcoming demeanour turned suddenly serious as he bowed at them, smiled at Yulia and shook Anatol's hand. "I am very pleased to see you, both of you, but as always especially you Miss Jelic. I hope you will be enjoying your evening here with us and that you will also enjoy our food."
"Thank you. I'm sure we will." Anatol replied, and then waited until Mr Han had disappeared back into the restaurant before speaking to Yulia again.
"What was all that about? Does he own this place?"
Yulia smiled. "That was Mr Han. He is the owner and he is so cool! I know him, I use this restaurant quite a lot," once again the girl smiled with a demure glance through her lashes towards her male dinner companion, "… for takeaways."
Yulia turned around on her seat to face her date, and crossed her legs. In a mini dress like the one she was wearing; the effect was extremely … stimulating. Anatol tried to avert his gaze from her well-toned thighs and supple but delicate calf muscles, but ended up simply staring at her cleavage. Yulia noticed and tilted her head downwards, once more exuding a modesty that her dress did not suggest she had, her eyelashes fluttered once more.
"So, have you got a wife or a girlfriend, back at home Anatol?"
"Me? No, no most definitely not."
"Why not?" Yulia pursued the line of questioning with vigour.
"Too busy. What about you, Yulia? Boyfriend?"
She actually blushed. "No. No boyfriend. Too much work, too many coffee shifts," she laughed kind of nervously, and then leaned forward so that her mouth was about six inches from his ear and she whispered …
"So, maybe, if this is a date for us, you can put your hand on my leg … but only if you like."
Anatol almost laughed, about the same time as he wondered which planet she was from.
"Are you sure?"
"Yes. I'm sure."
With a somewhat hesitant movement he rested his right hand on her thigh, about six inches up from her knee. Her skin was soft, and goose-pimpled as soon as he touched it. Yulia wriggled with pleasure and took a sip from her cocktail.
"This is now what I call a proper date," she said, "Sipping cocktails while a good-looking guy has his hand on my leg. Say things to me like you would normally say to a girl when you were on a date." She giggled. The delightful sound made him stiffen.
This time, he could not prevent himself from laughing. "Let me think." Anatol looked into her eyes with mock sincerity. "Yulia, you are almost certainly the most beautiful woman in this bar."
This got a delicious laugh from her and she looked down at her chest, before looking up again so that he could see her blushing. He already liked her ... a lot. She was so damned cute!
"That's no good!" She said with mock indignation. "We are the only people in this bar. What sort of love-talk is that?"
He knew that she didn't really need compliments. He was right.
"Is it always this quiet here?" he said by way of reply.
'It is very quiet this evening, almost just the two of …"
Before she can finish his sentence, Mr Han appeared again from somewhere.
"Your table is ready. Please come with me, and I hope you will have a delightful evening, the both of you."
Finishing their drink, they followed Mr Han into the dining area, with Anatol resting his hand in the small of Yulia's back. As well as the lace frontage, there was a long zip at the back of her dress which he visualised slowly pulling down. The thought stiffened him even more.
To Be Continued …