For many of the women, life at Messaline's Premier Pleasure Resort was much as they expected. There involved at least daily sex with her paying clients.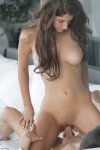 Most of them proved to be reasonably good in bed. But then there is Barbara. Word got out she was grace with a tight little (and she REALLY did not appreciate being taken there). This was like bait to a fish! Messaline would suggest to her preferred clients that they should experience Barbara's… um… behind. Messa charged extra that her clients willingly paid.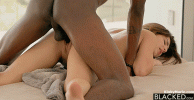 It would safe to assume Barbara did not enjoy such encounters. But there was a side effect. It seems Barbara's tight little could accommodate only one client at a time. A back-up was needed. Much to Kathy's chagrin, she too was blessed with a fine ass and Messaline would use her as a substitute for Barb's tight little. This is not to say Kathy enjoyed having her ass buggered!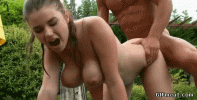 One day, Messaline called Capt. Fossy to her office. With an endearing look on her face, she asked Fossy if he could possibly find time to discipline Kathy.

Fossy, almost melting at the suggestion, assured Messaline Kathy would be taken care of tomorrow morning.
Early the next morning, Fossy brought a crew of slaves out to the work fields and start digging holes in the rocky ground. One of them asked what slave was going to get a day sun torture half buried in the field.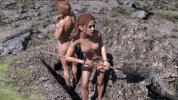 The other slave kept digging, saying "I don't know but I'm not going to give them reason to make it me!"
Meanwhile, as the slaves dup a pit in the field, Fossy went to Kathy's dormer and placed her in handcuffs and shackles. He led her out to the field and explained her distain or satisfying customers had angered Messaline and she must be punished. Kathy protests begging that she is new at the resort. Fossy is not sympathetic and says "Maybe a day to reflect on your duties here will help you perform better."
Kathy enthusiastically agrees until he adds "…buried in the dirt up to your waist under the sun. That might clear your head a bit!"
Kathy falls to the ground. Pleading, she begs "Don't do that to me!"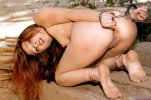 But by eight in the morning, Kathy is buried to her navel in the rocky soil.

Critters dance in her vagina but there is nothing she can do to stop them. One of the slaves that buried her says "I'm Annie. Sorry I had to do this to you but it was bury you or I'd be in the pit next to you."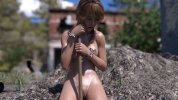 "Don't worry about it" Kathy says. "This won't break me. Besides, it gives me time to think."
By mid-afternoon Kathy is parched and wasted by the heat of the sun.

What could she be thinking now?