This is NOT the conclusion mentioned yesterday. Instead it is a look back at the hanging of the escaped slaves. As you may recall, Messaline abhorred the need to use the firing squad to give the slaves their deserved punishment. She went so far as to import premium French wood to build a gallows that would hang the seven women at the same time. She used premium French rope to fashion the nooses used to hang the slaves.
All her efforts were not appreciated by the condemned slaves. Prior to them being hanged there was the preparation of the slaves to be hanged. It took more than an hour to bring them from their cells and mount them on the gallows. Once hanged, it took between 9 minutes to a quarter hour for the slaves to surrender their lives to their nooses. Stare at a clock for that long. Now imagine being hanged for that long while slowly being suffocated by a noose closing slowly around your neck.
After the slaves had expired, they were left hanging from the gallows for the rest of the day until the custodians removed their bodies that evening.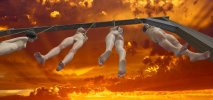 In all, it was a very good day for Messaline, the witnesses, and
Crux Chronicles
. The slaves didn't complain after they were hanged, but one doubts they were as pleased as the others there…