- Intro -
Hi guys,
I'm pretty new to this forum, and I hope it is okay to start an own thread concerning some pictures of my work. A lot of my images over at dA have been deleted by the dA_Inquisition.
3DGfx is just a hobby, most of my 2020 plans got smashed by corona, but I hope to release my first two chapters of my stories the next couple of months. These stories are intertwained, the first one is more (or less) consensual (The Story of J. and A.), the second one, non consensual, is told as a part of the first one and is called C.A.R.G.O. Both stories are long time projects, as I'm not a native speaker it will take some time to ensure good quality.
Both stories were initially B-Day presents for my wife J. Sadly I was only able to thell her the first chapter in November due to my RL duties.
A short plot about the story of J. and A. - the beginning.
J. and A. are from Germany and Austria. They have moved to Berlin last decade, and are going to renovate an old farmyard, about 50 km northeastern from their appartment.
What they've discovered and adapted there, well, is some relict of the cold war. And perfect for their plans.
J. is working in the pharmacy, A. is self employed, some sort of an engineer, developing sw/hw/machines for the industry.
Three of their closest friends, Birgit, Eric and Monique are living as a threesome polyamorie couple. Some pics will follow

More details in february.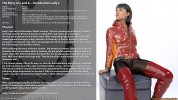 Last edited by a moderator: