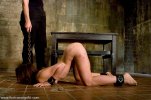 "Is the floor nice and cold? Do your knees and your chest hurt already?"
She lifted her face an inch or two. "Yes, master!"
"Good. You will spend the entire afternoon in this position. Would you like to know why?"
"Yes, master!"
"My buddy just told me he caught you making out with one of his slavegirls this morning when I sent you to his house on an errand. What do you have to say for yourself?"
"It is true. I am sorry, master!"
She squealed as he put a foot on both ot her calves, pressing her knees even harder against the floor.
"He will come over tonight, you know. I told him to bring your little friend along. We want the two of you to put on a show for us."
She turned her face around and gave him a big smile. "Yes, master!"
"Be careful not to enjoy it too much, or we will make you two punish each other."
Her smile grew even wider. "Yes, master!"