Here is the story of six people who will not find only peace and rest in the idyllic setting of a Greek island bathed in sunshine!
In fact of rest, it will be eternal.
Preface .
It is 2104 and life in the twenty-second century is like the twenty-first!
The rich get richer and the poor get poorer.
Cataloged among the very rich, the Greek shipowner Midas Petropoulos is known for organizing lavish parties attended only by well-to-do people whom he invites to his island in the Aegean Sea!
On this island, he reigns supreme and has the right to life and death over all his subjects!
This year, he turns 70 and wants the festivities to be grandiose!
So he decided to recruit six volunteers, three men and three women, whom he will sell to his guests and who can have fun with them, torture them before executing them.
With the misery that currently reigns in the world, it will not be difficult for its recruiters to find consenting victims because, now, everything sells and even buys life!
Indeed, it did not take long to find the "volunteers" who were summoned three weeks later to join the yacht "Athéna's dream" which will be waiting for them at Cap d'Agde in the south of France.
Future "cruise passengers" must show up on Monday, June 3, between noon and 2 p.m. completely naked and only provided with their invitation letter!
The day before the meeting, the luxurious boat commanded by the sculptural and cruel Appolonia, the shipowner's right-hand man and chief executor, is docked and awaits its guests.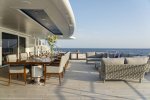 Midas Pétropoulos's yacht !