Part Two of two
Kathy and Barb have been nailed to their crosses. One of the guards grabs Messa and says "Same goes for you, lady."
Messa looks at her two friends squirming nailed to their crosses. She says "You cannot do that to me! It looks ghastly!"

But the guards team up and throw Messa onto the empty cross. She begs "Don't nail me!" but her plea is ignored.

They tie her to the cross and start driving spikes through her wrists. Once she was secures, one of the guards disrobes and begins giving Messa her last fuck. She cries out "Don't do this! I am a lady!"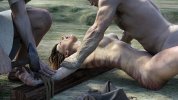 "You're a condemned prisoner. Enjoy it while you can" the guard snarls as he pumps his load deep inside her.
He climbs of her and dresses himself. The town's people stand around her and discuss how divine Messa looks with her wrists nailed to the cross and the guard's cum oozing out between her legs. The high cleric gazes down on Messaline and notes "You deserve to die on the cross! Even with your wrists nailed you seduce men with your body!"

Messa's feet are nailed to the stipe.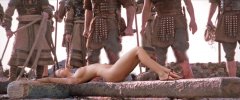 The three women lay nailed to their crosses. Queen Helen yells "These women cannot lay there. They are to be crucified! Raise these bitches up!"
On the queen's words ropes are attached to the crosses. With mighty tugs, Messaline's cross raises from the ground and swings skyward. Messa's body starts to slide down the rising stipe. She cries out "You are hurting me!"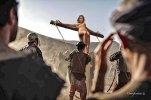 One soldier laughs and says "I hope so! After all, you have been condemned to death!"
They start to raise Barbara's cross. She looks down her cross and mocks "Are there enough of you? Put your backs into it!"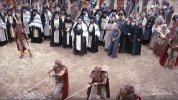 A strong crew grabs Kathy's cross. As it raises, she slides down the stipe and screams "YOU ARE KILLING ME!"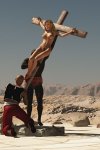 The men seemed pleased with her concern. When her cross is nearly raised, its base slides into the hole with a loud thud.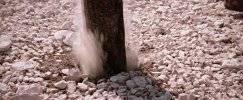 To the mocking cheers of the crowd, the three women stare dazed from their crosses.

Their horrors on the cross has only begun.