@Barabbas
@Barbaria1
@Beate
@bkcharmer
@bobinder
@crumera
@cruxlover
@ctcua
@ERIN the Brave
@Eulalia
@Eva Inanna
@Gibbs505
@Heineudo
@Jackie1111
@jacksjg89
@Jon Smithie
@Kathy
@Kuba
@Madiosi
@Marcella
@messaline
@MJMcHugh
@montycrusto
@nicole
@old slave
@Peony
@phlebas
@Puritan
@Quiet Paul
@RacingRodent
@Rias
@thehangingtree
@toxidomaskjr
@twonines
@wildsouthman
@windar
@Wragg
@StarbuckSlut
@shredword
@The Beast
@thommorr
@elephas
@malins
@Loxuru
@Harsh Martinet
@RedOrc
@Grab
@firstout0
@bleater
@Ozz
@Boris Spider
@Dalriada
@TheLimey
@KurvyKate
@Vindex
@piraland
@fat slave girl
@Praefectus Praetorio
@Loinclothslave
@jbs073
@Peter_the_giant
@Ted Parry
@twonines
@cerf
@JJ Shriek
@john rambo
@NewUser
@Rupert_137
@mp5stab
@Doragon
@Cran
@Jollyrei
@TerriT
@ledoux
This is a story based around a setting in AD 122, upon the commencement of the construction of Hadrian's Wall, which was built in order to create the Northern most frontier border of the Ancient Roman Empire. It is a tale that has taken inspiration from several sources. My reading of that excellent story from
@Praefectus Praetorio
-
The Fate of A Goth Girl
, the watching of the TV series "The Roman Empire", then finally, and perhaps most significantly given the context, my recent two-week tour of Hadrian's Wall.
"The Wall", as my story is called, does have background. It has context and setting, and a little delve into the different lives of the main protagonists. So there is 'build up' for sure during which time the explicit nature of what we all enjoy here is simmering in the background. However, fear not, because a menacing edge is never far away and it is an edge that evolves throughout the chapters, of which there are around 25, into an explosion of torture and violence by the time we reach the climax.
The Wall will contain a slight departure from my usual style, in that each chapter will be text only. I will leave the imaginings of what the characters and scenes look like to the wonderful creativity that exists here on CF. However, below is a Dramatis Personae for the main protagonists that includes a picture, just so that you can get an idea of what kind of character was going through my mind as I wrote the story – you will see that the Brigante Female, Lilah, is played by my Muse
Charlotte
, who is delighted to be entertaining you all once more!
So, without further ado, on with the show …
Dramatis Personae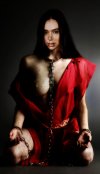 LILAH, A Brigante Female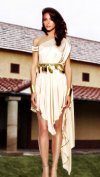 VALERIA, the wife of Aulus Paulinus

RUFUS, A Brigante Warrior

NEPOS, The newly appointed Governor of Britannia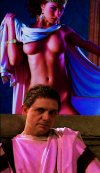 TIBERIUS PAULINUS, A wealthy Merchant of Coria

AULUS PAULINUS , The weaker willed, more insipid, brother of Tiberius





The Wall – 01

AD 122

Britannia​

The northern wind blew across the ridge with a howl like an army of barbarians. The metaphor pleased the emperor, who considered himself a scholar as well as a soldier. A new balcony jutted from the wooden quarters that had been hastily erected for the emperor's entourage, and Hadrian stood on it now, adding the gale to his mental inventory of the empire.

Hadrian had complimented his host for the ambitious timber construction at the remote Vindolanda. Half his life had been spent under a tent, so this was a relative improvement.

No ruler had ever attempted to tour the entire empire before. But here he was looking out at the sodden slope, suddenly impatient. "So, let's go and see this high ground!" The ruler was restless.

"We could wait on the weather," the about-to-retire Governor, Pompeius offered cautiously, looking out at the falling rain.

"Wait on the weather in Britannia?" The laugh was loud. "I'm forty-eight years old, Governor. Wait on the weather, and I might as well order my tomb."

"It changes quickly, Emperor."

"So does my empire. I've travelled from Persia to Britannia. If I'd waited on the weather, I'd still be in Syria, sunburned and bored."

"I'll order the horses," Pompeius replied, somewhat wearily.

"No. We walk." The emperor addressed the assembled officers. "We walk like the barbarians walk, to feel the lay of the land as they do and try to imagine what this proposed wall of ours will look like, to them and to us."

"A wall."

"A wall, Governor, across the entire island."

Pompeius blinked. "The entire island?" There'd been no warning of this.

"A single wall to settle the governance of Britannia once and for all. Rome on one side, the barbarians on the other. This province has warring tribes that rival the Gauls and the Germaniens for irritation. We have advanced the Empire in this part of the world far enough and now we need to keep the Brigantes under control and at a disciplined arms-length, because if we do not then they will foray into Caledonia and unite with the heathens further North. We need a controllable frontier, and so we will build a wall, Pompeius, and then we can regulate trade, migration, smuggling, alliances, and civilization itself. A wall eighty miles long, built by Britannia's three legions."

"On this land?" The Governor looked warily over the edge of a precipice no army could climb.

"Even up here, on this land." The Emperor replied.

The party's cloaks fluttered in the bitter wind, but the rain was thinning, and the panorama stretching before them was sharpening into view.

"I want the tribes to see an unbroken wall, filling valleys, rolling over cliffs, and bridging rivers." Hadrian turned to Pompeius' successor. "Can you do it, Nepos?"

"The engineers have made some preliminary calculations," the new Governor said, having had more knowledge than Pompeius of this idea. "The volume of stone is prodigious. I estimate thirty million facing stones alone, with rubble, clay, and lime mortar filling the thickness between. Such a project will require many quarries, timber for scaffolding, and a whole legion of cobblers just to replace worn boots! It will cost …"

"We will not count the cost." Hadrian was looking not at his Governors but out across the northern landscape again. "It will be built by soldiers who have grown restless and need a project to organise their minds. And it will be done."