We have a very successful thread bare-naked famous ladies. I think we gentlemen, should have a similar thin for the females. So I started to present fully nude actors, some tortured males, should not be implied, or even crucified ones. I start with 3 movies:
Brüno: Cohen claimed he shoved in the tube of that thing deep into the column of Banagale,. If he did not, Banagale did a good acting!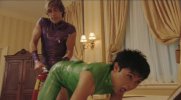 Wolf of wall street: Faked candle in di Caprio. If not DiCaprio had a very strange position of the asshole that scene is faked, see the enclosed real pic.

Okay and Zohan, which states that males also smell fishy not only the females: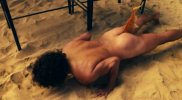 But please, not only anal torture.