Any of you who've read my stories know I love women who love being stripped naked, bound and/or tortured/crucified. For me, the
willingness
and the pleasure they take in it is a major turn-on. I thought I'd see if anyone else here share's that feeling. I'll post some pictures and perhaps some very short stories where the victim is willing, and is sometimes the instigator of the torment or bondage or enslavement. If you want to post pics or stories, I ask only that the victim (male or female) is obviously willing and/or anxious to endure whatever it is they are enduring. So, here are a few of my favorite "very willing" images. More to follow.
Now, in the last image, the obvious willingness comes not from her expression, but from our knowledge of what
@Barbaria1
"really" wants to have happen with that device, despite the gesture.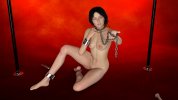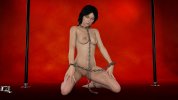 Last edited: