Market Day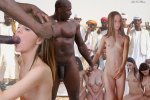 A market is as much a social gathering place, a place of entertainment, as it is a place where people trade and do business. This is especially true in parts of Africa where there is little other public entertainment. This was very much the case in the market at Otjiwambo.
As always, the slave market attracted much attention, much more from casual window shoppers than from buyers. After all, there are many less pleasant things to do than to browse among the slaves on offer. Even a poor man can dream! There was a very definite buzz at the market on this occasion. The pirates had been at it again, very, very successfully. While cargo ships laden with valuable goods were by far the most profitable targets, the odd passenger vessel still operating in the area provided a much more entertaining cargo. This ship was a real bonanza. It was on a "singles cruise," stuffed full of young people, and a few not so young, all looking for a sexual adventure, and perhaps even a life partner. Abdulrahim, busy making a deal with a brothel in Azerbaijan, felt that he was in fact doing the passengers a favour, by helping them achieve their dream. They were certainly going to have many sexual adventures, and, after all, slavery was for life, wasn't it?
The male passengers and crew, with the exception of a few who were attractive enough to be marketable, were unfortunate. They would spend the rest of their lives working in the Marijuana and Kat plantations that provided a substantial and steady income for the local warlord. As for the females, and the attractive young men, well, they were on show and would fetch high prices. Abdulrahim knew all about marketing, one of the many useful things he had learned as a student at the LSE. "Get the buyers excited! Allow them to dream. This loosens their grip on their purse strings." The lecturer who taught him that piece of wisdom was a particularly attractive young Ph.D. who was presently giving very expensive blowjobs in a brothel in Dubai. One of his first successful business deals.
Abdulrahim had put his academic training to good practical use. An interactive market, with a 'try before you buy' policy certainly sustained interest, and kept prices high. After all, as the perspicacious lecturer had known, there were certain stimuli that promoted sales and helped raise prices.
He smiled as Annie managed to stifle her gag reflex. She had soon learned that a proper blowjob was nothing like the delicate little kisses she had planted on the head of her boyfriend's pitiful pecker. Fortunately, she had natural talent, and could soon take all but the largest organs Africa had to offer. He watched as one of the salesmen hovered, waiting for the right moment. The prospective buyer's eyes were already glazing over as Annie got to work. The salesman would wait until she had the buyer deep in her throat before offering him a sales contract. Both of them knew that no man could think straight with a tight throat massaging the head of his cock. Annie was as good as sold.
Sarah was more than a little apprehensive as one of the sales assistants led her to the show platform. She had been chosen to demonstrate that even a petite white girl could easily accommodate all that the buyers had to offer. She looked away from Mustapha, the sales assistant, afraid that if she looked too closely at the thing dangling between his legs, her courage would fail her. She swallowed convulsively; while still flaccid, it was almost as long as her arm! And almost as thick! Already the salesman was starting his patter.
"Come along, brothers. Let us show you that these feringhee women are insatiable and accommodating. Gather around, and watch as she takes Mustapha the Bull in every orifice! Think about it! For a very modest price you, too, can own one of these tight, eager, almost virgins! Imagine such a tight sheath for your own proud member!"
Abdulrahim smiled. The ignorant Azerbaijani had just closed the deal at a very, very profitable price! Another dozen girls, and four effeminate males sold. His grin broadened as Sarah's eyes widened, the thought of plumbing her tight holes was bringing Mustapha to his full rampant glory! She now knew why he was called 'the bull!" As she knelt on the platform the thought flashed through her mind. "Excitement and sexual adventure! I guess we get what we wish for."
Market day in Otjiwambo was always entertaining!
Artwork by Julie and Melissa