Ann Marie was cruelly tortured on her bulging breasts by Richard for an eternal hour. This executioner had received extra pay from Judge Varela to subject the milf to additional torture.
To do this, he tied her to a post with her arms raised so that her bare breasts were defenseless.

Ha ha, he said after punching her in the tits, does it hurt?
Ann Marie felt a tremendous pain in her already battered udders but she kept quiet.
I imagine that those udders grew so much when you gave to suck your "busty suckling piglet" and that you enjoyed every time your baby sucked them, yes !, ...... all the times that I have fucked you in the dungeon have seemed to me that they were very sensitive.
It was true Ann Marie had so sensitive tits that she could reach an orgasm only by sucking both at the same time. The repetitive tortures in the fortress had become them even more sensitives.
Look at that brazier, there are the heat needles, pliers and breastrippers. They are a gift from Judge Varela to treat your precious boobs before they are amputated.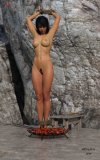 Ann Marie stared at the brazier filled with glowing embers where the instruments of torture were glowing red and she felt a shudder of terror. At the same time her areoles stood on end and her nipples grew hard as stones. Only that really hurt.
Yes,.... said to the executioner as if she were very hot,..... torture me,.... please, punish me as much as you want on my breasts, so that the crowd enjoy my torture.
Richard was stunned.
Are you crazy? or you are a masochistic whore.
Yes,...you are right I am a masochstic , Come on, you wish to see me suffer as much as me.
Okay, you wanted it bitch.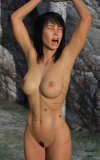 And taking a red-hot plier, he pinched her right nipple.
AAYYYYYYY
SSSSSHHHHHH
The hot iron whistled when touched the delicate nipple skin and poor woman writhed in pain as she howled looking up at the sky.
The audience applauded and cheered the executioner satisfied with the torment.
Rip it off that bitch!, come on!.
And heeding the suggestion, the executioner twisted the tit point both ways without letting go of his grip and came to pull the nipple.
IIIIIAAAYYYY
Ann Marie continued howling in pain, and a stream of pee ran between her legs.
When the iron cooled down, the executioner returned it to the embers to warm it up again.
Ha ha, did you like it bitch? You were screaming so loud that I didn't realize it.
The woman replied with tears in her eyes.
Is that all you can do? Let's go,.... now the other one and don't stop no matter how much I scream or beg.
Crazy bitch, a thousand hell .....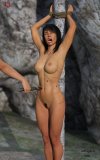 AAAYYYYYYYYY SSSSSSSHHHH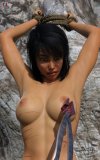 The executioner continued to torture her with tongs, grabbing pinches on her navel and groins near pussy,.... and twisting her left nipple. The woman seemed to suffer unspeakably and cried out for mercy but Richard did not understand anything because as soon as he released her she would beg to continue the tit savage torture.
After using the red hot pliers for twenty minutes, the executioner changed the tool and took the breast rippers had been used to rip Sybil´s boobs minutes before.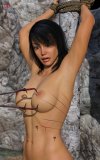 NO, NO, NO, IIAAAAAAAYYYYY
In Ann Marie's case the executioner didn't want to amputate the udders yet so he used the red hot tool to poke the tender flesh of her tits at four different spots and then shake and twist them mercilessly.
In response to the savage torture Ann Marie would not stop crying or drooling amongcries of mercy.
So cruel was her torture that the public focused on her ignoring what they did to Mallory
And now the needles,...... executioner......please, don´t stop the supplice

Pierce...... my tits...... with those steel needles.......from side....to side.....please
At your command, bitch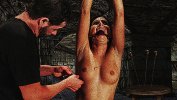 IIIAAAAAAAAYYY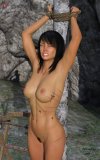 The red hot needles found their path in Ann Marie´s breasts roasting milimeter to milimeter, one, two, three, four needles in each tit in a very long and painfull way.
In fact Ann Marie, was protecting her daughter. She asked and accepted the horrendous martyrdom to attract the sadistic audience's attention to her. Maybe this way they would leave Mallory alone and her daughter would be free of one of the torments.