Women's Correctional Institute (of Northwest Arkansas)
In the mid-21st century a women's penal institute was opened in the Northwest corner of Arkansas. The criminal incarceration facility was a privately owned institute built and run by 'THT Operations', a non-government organization that operates the Women's Correctional Institute. The incarcerated women are all under fifty years of age and in good health. One could argue the women are ideal prisoners or constituted a major escape risk. Whichever they were there had been no escapes from the institute although those trying to escape met an unfortunate end from the security guards, or were captured and held in solitary confinement, or had their sentence raised to execution.
The 'unfortunate end' usually meant being shot to death by the guards.

'Held in solitary confinement' was less than a prisoner could hope for.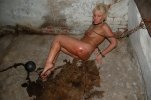 And having one's sentence 'raised to execution' meant time served at the institute would be shorter but somewhat more permanent.

As it was 'THT Operations' charged only twenty dollars a day for each woman held there and except for a few liberal states the facility housed women from across the country.

It can be argued whether or not the woman were held in humane conditions but there were no reports of cruel conditions from the women incarcerated there.