SHATTERED RETURNS WITH PART II - ADDICTED and ABUSED ...


ADDICTED and ABUSED (1)


Brick Lane, London.
Agent Anderson sat in her car waiting. She knew that the girl would be here. Despite picking an older pool car to be in, the young Agent still felt conspicuous out on her own in this part of London.
The girl sauntered up the road and Lacey couldn't help but admire her. She was beautiful under it all, all the makeup, coloured hair and cheap, revealing clothes. The engine of the MI6 vehicle was switched on and it slowly moved down the road towards the oncoming prostitute.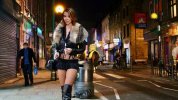 "What you after honey?" The girl said into the window of Lacey's car. Male or female it was all the same … all customers … all money.
Leaning over as the window wound slowly down, the girl's eyes widened when she saw the ID.
"Oh, fuck off." She muttered.
"I just want to talk." Lacey said quickly holding out the fistful of twenty pound notes she knew would get her attention. "And I'll pay." She saw now how very young the girl really was, nineteen maybe twenty at a push.
"Urgh whatever." The prostitute muttered opening the door and climbing in. "Drive then. You're paying so you might as well act like a punter."
Lacey smirked. "Tell me where to pull over." She said as she pulled away.
"Just here. This is my usual spot." The girl muttered, folding her arms across her chest and scowling.
"Okay, so your boss …"
"My pimp you mean." The girl cut across her.
"Whatever you want to call him. We just need info. We know he's running a whole load of girls and a lot of you aren't even of legal age, and we also know which organisation he belongs to …"
"Like you give a shit. It's our bodies, we can do what we want, thanks," the girl muttered before looking around to see if anyone was nearby, watching.
"Oh, I agree Dani but how much do you like handing over what you earn to him? And how much do you like his beatings too?"
"You know my name?"
"'Course I do, we know you're new to this patch too, maybe even new to this whole game," Lacey replied.
"Oh, just fuck off." Dani muttered.
"Look I'm not here to judge you, like you said I don't give a shit what you do but I do give a shit about your pimp, Markus. He's been trafficking girls for a long time. Some of them are far too young to know what sex is let alone be deciding to sell themselves."
"What do you want from me?" Dani asked narrowing her eyes.
"I just want info. Markus must be keeping these girls somewhere. Where is it?" Lacey replied.
"Like I know that."
"Can you find out?"
"What, you want me to just go and ask him? Sure, that'll end well. Me in a fucking ditch." Dani stated and she looked around again as if to reassure herself that no one was there.
"Is there any way you can find out? Carefully I mean?"
"What's in it for me?" Dani asked back.
"What do you want?"
The girl shrugged. "Maybe I want out." She muttered.
"I can help you. I can get you out if you want that." Lacey said. Dani rolled her eyes.
"Don't make promises you can't keep." She stated.
"I mean it Dani, if that's really what you want then I can help you but you have to help me too."
"Let me think about it." She muttered glancing around again and her eyes widened in horror.
"What is it?" Lacey asked seeing her face.
"Undo your pants. Quickly." Dani said and Lacey's jaw dropped.
"What?"
"He's here you idiot." The girl hissed grabbing at Lacey's jeans and yanking them open so that she could slide her hand down inside and into Lacey's panties.
"At least act like you're enjoying it." She muttered as Lacey grabbed her wrist.
"What the fuck is this?" A man's voice hissed as he rounded on the car and then his eyes fell on Lacey's crotch. "Woah."
"Fuck off Markus, can't you see we're busy?" Dani said with a smirk and Lacey literally couldn't look at either of them.
"Well, isn't this hot?" Markus said stepping back.
"Please … just fuck off, you'll get your money." Dani snapped and thank God the man backed away.
"Well, that was something." Lacey muttered once she realised, Markus had gone.
"Something to sweeten the deal. I'll get you what you want but you better deliver too." Dani stated yanking her wet and sticky hand back out before getting out of the car making sure to grab the bunch of notes as she went.
Fuck me
, Lacey thought
she actually did … inside me … fuck
! Squirming, she refastened her jeans and quickly drove away.
To be Continued …