Julia saw again the cross, the nails and the crown of thorns, those infernal beings were going to crucify her again but now for all eternity.


Julia was forced to give those demonds a blowjob, their cocks tasted horrible like rotten eggs, and their semen burned their insides like molten lava.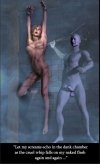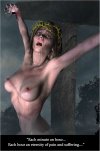 Then the devils whipped Julia with infernal lashes that skinned her back laid her on the cross overcoming her resistance and nailed her wrists and feet again, only now the nails hurt much more than the first time.