At the same time as the scenes of torture and crucifixion in the arena, Claudia was in her box sharing with her noble friends the most succulent delicacies and drinks cooled with snow from the mountains.

- PLEAASSSSE, NO MY GOD, NO MORE, I BEG YOUUUUU NOOOOOAAAYYYYYY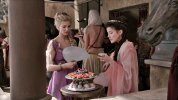 - How little resistance that slave has to pain!, I thought they wanted to suffer for their dear Jesus and that one there screams like a sow.
- How are the senator's numid slaves?
- Oh it has been a very exciting experience, they have escorted us to Sabina's house and there they have undressed us and us to bathe. Well ..... they were naked too.
- Have you just bathed?
- I can't tell you more but you have to try it, I've never seen such long cocks, ha, ha.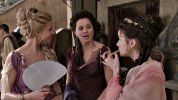 - At last I find you Claudia, the praetor ask for volunteer women to scourge Christian slaves or help to crucify them. I thought you would like to volunteer.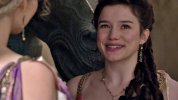 - Oh Sabina, I would love to whip one of those naked Christian women.
- Then go down to the arena with me and Sifax will give us a whip.

Sifax showed the two patricians some Christian women to choose which of them they wanted to flagellate.
- Oh I know you, what is your name? Said Claudia
- Hecuba, my lady.
- You look like very young, how old are you?.
- I don´t know my lady.
- Now I remember, you once spoiled a very expensive purple-dyed dress by pouring wine into it.
- Excuse me lady.
- I want this Sifax, I will crucify her myself, but first tie her to a post because I want to scourge her.
- No, please, madam, please.
But Hecuba was tied to a torment post in a very cruel way. Sifax´ asistants tied the girl with arms over head, a pointed stick at her back that forced her to project her breasts forward and a sedile full of sharp spikes to torment her crotch.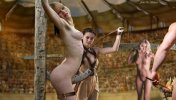 SSSAAACKKK, SAAACCKK.
- AAAAYYYY
- So you will learn bitch, that was my favorite dress, take it .
Claudia was mad with bloody lust so she flogged the poor girl until she lost consciousness.
- Come on, wake her up, I want to continue.
- My lady, you almost killed her.
-Too bad, bring me another one.
Then they brought in a girl who they were about to crucify.
Claudia had a patibulum to be tied around slave´s shoulders and after sticking a hook in her right breast she decided to walk her through the arena so that everyone could see her well while she pulled the hook.
The crowd clapped and screamed rythmically.
- NAKED, NAKED, NAKED

Then Claudia understood that the public wanted her to undress, suddenly she remembered that she had already done it with Julia and, feeling her sex wet in her own flows, so she agreed to undress in front of the people and loosening the knots that held her dress, she let it fall to the ground. .

People clapped louder and began cheering for her while she carried the victim to the pace of crucifixion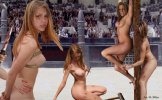 Finally the bloody patrician helped other volunteers to crucify the Christian slave and drove the nails into her
herself.
After crucifying her, Claudia asked for a brazier with burning coals and various hooks and began to torture the poor girl.

- Hmmm, you have bulging nipple areoles, a sign that your boobs have grown out not long ago. This way you will have them more sensitive and you will feel the burning of the hot iron more.
SSSSCCHHHHH
- IAAAAAAYYYYY
- Can you feel it darling?, ha, ha.