Miss Virginia's fate
It was late in time centuries ago when Miss Virginia rose to fame for her apparent wealth. She was quite respected by her peers but that was only for their acceptance of her.
In fact, she was rarely seen outside her home without an armed escort.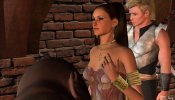 You see, Virginia was hardly her name and 'Virginia' was less than an accurate description of her sex life. Virginia was indeed a pirate queen whose wealth was an accumulation of her illicit trade. Unfortunately for her, her activities came to the attention of the king. He gathered his advisers together and presented his case that- not that Virginia was a pirate queen- Virginia was not paying taxes she owed to the Kingdom. His (not stupid) advisors agreed with the King and sent soldiers to Virginia's home to arrest the woman.
The soldiers arrived at Virginia's home and declared Virginia was a prisoner of the king. Virginia was angered that such common men would dare come to her home and inform her she was a prisoner of the king. She barked "How dare you come here and inform me I am a prisoner of the king!"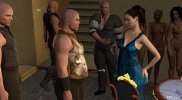 Her protests were forcefully ignored and the lead soldier grabbed he arm.

"You are a prisoner of the king" he yelled. "Soldiers, arrest her!"
A soldier bound her wrists behind her back while the lead soldier ripped her dress' top from her shoulders.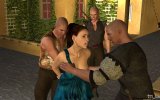 To Virginia's embarrassment she was led bare-chested through the streets of Brampton to be placed in the dungeon basement.

Virginia was humiliated that she was paraded before the commoners of Brampton. At the dungeon of Brampton the remainder of her dress was removed and she was given only rags to wear.

How could her life get any worse?
Last edited: