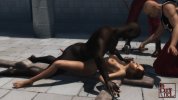 The crucifixion of the two volunteers turned into a bloody orgy. The executioners took turns raping Kylie who had already nailed both arms to the patibulum.
How that volunteer screams Mr Smith,! said Count Salvatierra, it is difficult to know if they are screams of pain or pleasure.


The one that is really enjoying it is the public, more and more people are fucking, I'm sure it's full of beautiful masochists who will soon give themselves up.
Mr Smith then picked up his cell phone and called his secretary.
Jimmy!, bring the new volunteers just now to the stadium, quickly, if necessary carry them in cars trunks, they'll entertain the crowd during the show. Perhaps so we have more candidates.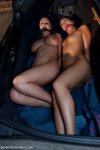 Jimmy obeyed Mr Smith at the time and the first volunteers were taken to the amphitheater in the trunk of the cars, tied and naked.

Soon they were paraded with whips to the stands where dozens of habit men took them as if they were whores.
Meanwhile, the executioners who had been raping Kylie finally left her alone.

Well, it's about time everyone saw those big boobs. Come on, put this whore's cross straight.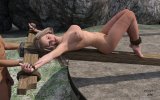 The executioners took her cross tightly and held it upright to the cheers and applause of the people.

Kylie cried out in pain as her body slid down the rough wood of the stipe and her back flayed. Now all his weight hung from the nails in wrists making her arms ache like hell.

As the cross straightened up, Kylie's big tits shook like jelly at the slightest movement and streams of milk dripped from them. Many women in the audience laughed mocking the crucified young woman who displayed an indescribable gesture of suffering.