Rebel Leader
Staff member
The vindictive Queen had the Officer beheaded and sentenced the anonymous woman in the iron mask to be publicly flogged to death.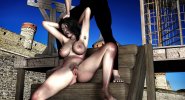 Barbara was last seen here, being dragged naked to the public flogging platform, squalling and screaming obscenities as was her usual wont. But unbeknownst to the public … and even to her executioner … it wasn't Barbara who was about to die, but her twin sister Anne. For a band of rebels loyal to Barbara had taken over the palace and castle during the night, and had switched the identical twins.

Anne's insistent claims otherwise went unheeded as her public flogging proceeded unhindered, and she died an inglorious death.